Your Socrata Solution is only as good as the people you have managing it, and unfortunately passing the tribal knowledge along to the rest of the team isn't always the top priority. Socrata's Education curriculum is specifically designed to ensure your entire team gets the most from your technology investment. Our qualified, certified instructors are well versed in creating education plans that equip teams of all skill and experience levels with the ongoing education needed to run a successful Socrata program.
With your paid subscription Education Package, you're ensuring that all of your Socrata users have access to the training they need to do their jobs - whenever they need it through the Socrata Education Portal at learn.socrata.com. There's no limit to the number of times classes can be taken, allowing users to repeat classes when they need a refresher or update on new features. There are no seat licenses either, so you can onboard new Socrata users at any time as your program grows to include new team members, departments, or agencies.
If you wish to learn more about Socrata Education Packages, or, your organization's current Education subscription, please contact your Account Manager or Customer Success Manager. 
Socrata Education Programs: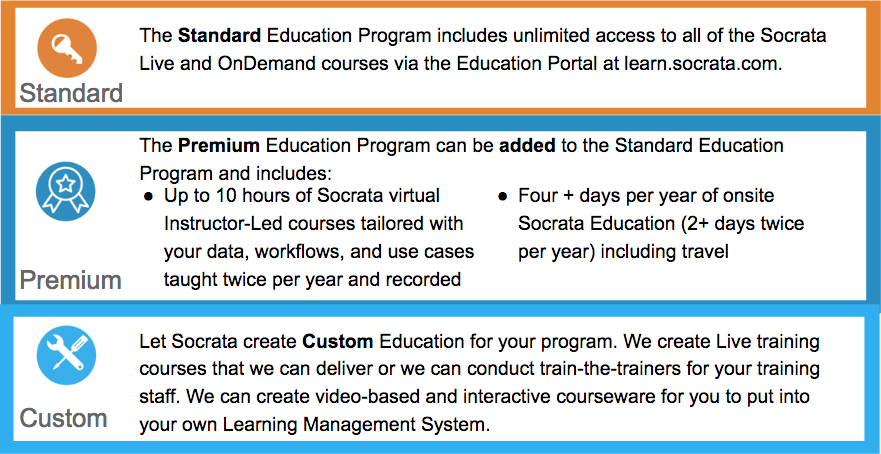 Standard Education Program
The Standard Education Program includes unlimited access for the term of the contract to the Socrata Education site with virtual instructor led and eLearning courses.
Premium Education Program
The Premium Education Program includes the following:
Onsite Training:

 includes up to two onsite education programs with a maximum of six (6) days of course topics and content from our Standard program with a minimum of two (2) days and a maximum of 20 students per class at the customer's site. Customer will plan and schedule these events with the Socrata Education team. Travel is included.

Two Tailored Virtual Courses

: Two of our standard courses can be tailored with customer's data, workflows, and processes and then delivered virtually. A recording of these courses will be provided to stage in the customer's LMS or other repository. The custom course materials will also be provided so they can be used internally.