Education Registration Policy
Students can continue to register for a class that has at least the minimum number of students and hasn't exceeded its maximum number of students until one (1) day prior (24 hours) to the teaching of that course. Registration activity will be frozen within 24 hours of the course in order to prepare the student environments for the course.
Education Cancellation Policy
We require at least three (3) students to hold a class. If there aren't the minimum number of students necessary registered five (5) business days prior to the class being taught we will cancel the class and contact the participants registered for that class to schedule them into an upcoming class. We will contact students in canceled classes by both phone and email.
Education Course Attendance Policy: A charge of $150 per user, per course will be invoiced for any registered attendees who fail to attend their registered course. Attendees who join a session more than 10 minutes past the scheduled start time will be considered as cancellations and subject to the fee.
Education Programs
Access to Socrata Education courses is available to our Socrata Education subscribers via our Education Portal at learn.socrata.com. Customers will be given an Access Code to be used by all personnel to register in the Education Portal. This Access Code expires on the customer's annual renewal date and will be extended with the customer's contract upon renewal.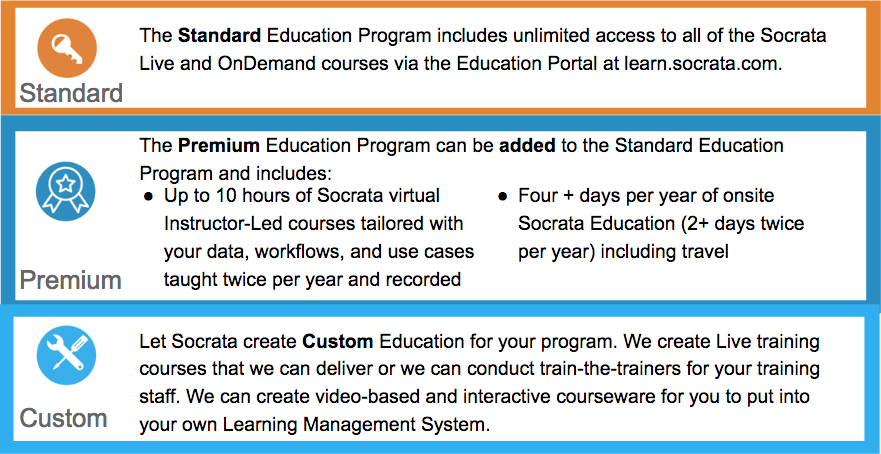 Standard Education Program
The Standard Education Program includes unlimited access for the term of the contract to the Socrata Education OnDemand site with virtual instructor led and eLearning courses.
Premium Education Program
The Premium Education Program includes the following:
Onsite Training:

 includes up to two onsite education programs with a maximum of six (6) days of course topics and content from our Standard program with a minimum of two (2) days and a maximum of 20 students per class at the customer's site. Customer will plan and schedule these events with the Socrata Education team. Travel is included.

Two Tailored Virtual Courses

: Two of our standard courses can be tailored with customer's data, workflows, and processes and then delivered virtually. A recording of these courses will be provided to stage in the customer's LMS or other repository. The custom course materials will also be provided so they can be used internally.