Data Federation allows datasets from your Data & Insights domain to appear on other Data & Insights data portals.  To be the recipient of federated data, the federation request must originate from a different data portal.
To federate your data with other data portals, first you will need to click on Federation within the administrative panel.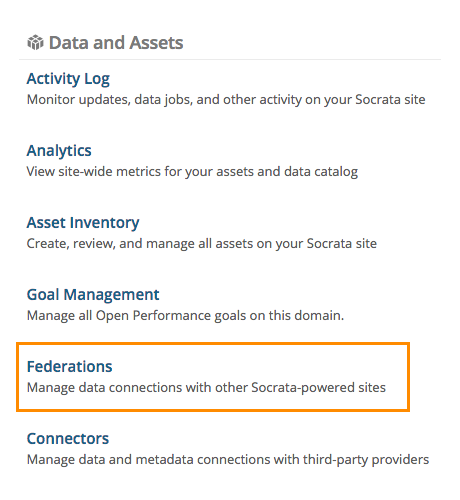 Next, click the "Add Federation" button.

This will open up a modal that allows you to select a Catalog Federation or a Data Federation. Both Catalog and Data federation allow you to publish assets to another Data & Insights domain. With Catalog Federation the assets that are published to the target domain will appear in the target domain's catalog, but users will be redirected to the source domain if they want to view the asset. Data Federation allows the assets you publish to the target domain to be opened and interacted with on the target.
To set up a Catalog Federation:
Select Catalog Federation on the Add a Federation modal.



Enter the URL of the domain you would like to federate to and click 'Validate'. Entering a valid domain will allow you to click the 'Next' button. A valid domain consists of an existing Data & Insights domain that does not currently have an incoming federation from your current domain.

Select the Search boost for the requested federation.



When you set up federation you set a "Search Boost" option that determines how high it appears in searches. The main site will always appear first, and then the "Search Boost" is a score from 0-1, with values closer to 1 appearing earlier. 

Note: You cannot change the search boost after you set it for each federation.

Tip! When federating a catalog from smaller entities (such as federating a state catalog with the catalog of cities and/or counties), you may want to adjust the priority of datasets showing up in search queries to manipulate their location in the search list. 

Click 'Request Federation' to send the federation request to the target domain's administrators.. The request will now appear in the Federation Table in a 'Pending' status.




Once the target domain has accepted your catalog federation request, the status of the federation will display as 'Accepted' and all the public assets on your domain will automatically be catalog federated to the target domain. At any point in time, you can 

Terminate a catalog federation relationship.



If you wish to Terminate a data federation relationship, you must contact support at datainsights-support@tylertech.com.
Once a data or catalog federation has been approved, users* will see these federated domains when searching your site's catalog, the example below is from New York State.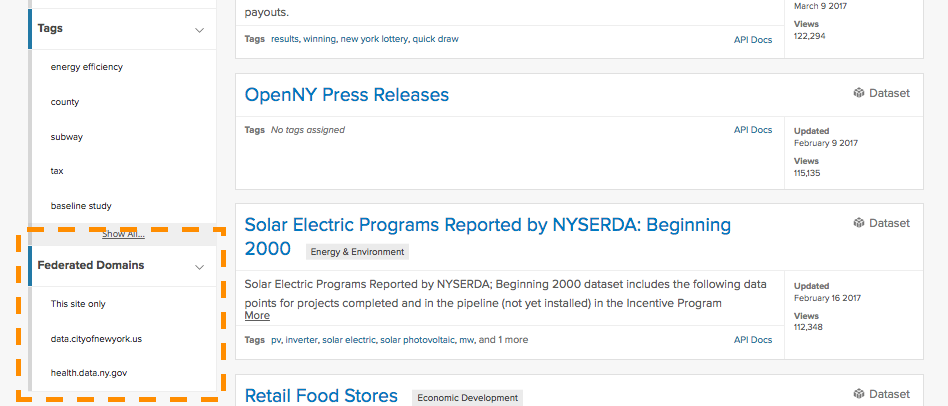 *For data federations, only users with a role on the site will be able to see data federation source domains in this facet. Un-roled users and community users will not see evidence of data federation source.
---
Federating with Approvals
If approvals are being used on the source domain, only assets that are approved and the public will federate to the target domain. These assets will immediately appear in the catalog and will not go through approvals on the target domain, even if enabled. This is true for both Catalog and Data federation.