The "Suggest a Dataset" feature is a great way to get feedback from your users about what data they would like to see. The nominations submitted can be moderated by Administrators and Publishers on the domain. If moderation is turned on, here's how it works:
1. A user submits a dataset suggestion to your site using the "Suggest" button at the bottom of the Data Catalog.

When that suggestion is submitted, it will be listed under "Dataset Suggestions" but will only be visible to users who are Publishers or Administrators on the site.
2. To moderate the suggestions, log in to your account and navigate to "Dataset Suggestions" by adding "/nominate" to your domain URL.
3. You will see a list of suggestions. New ones will be listed with a "New" status.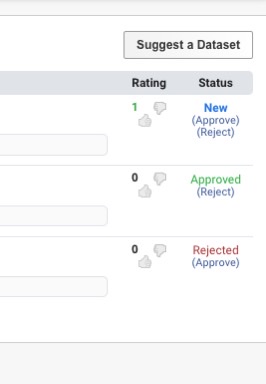 5. Click "Moderate" to have the suggestion appear on the suggestion page for the general public, or click "Remove" to delete the suggestion.
6. Once a suggestion is considered open (or moderated), you can then select "Approve" or "Reject" to update the suggestion status.
Receiving Notifications
Site administrators and publishers can start or stop receiving notifications about dataset nominations by going to Profile/ Account Settings/ Email Notifications.