Click the link to watch a short video on how to filter data within a dataset
Under the Filter menu on a dataset, you will find multiple filter conditions for a variety of filter use cases. To add a filter to a dataset, navigate to the Filter section under the Filter menu and click the "Add a New Filter Condition" button.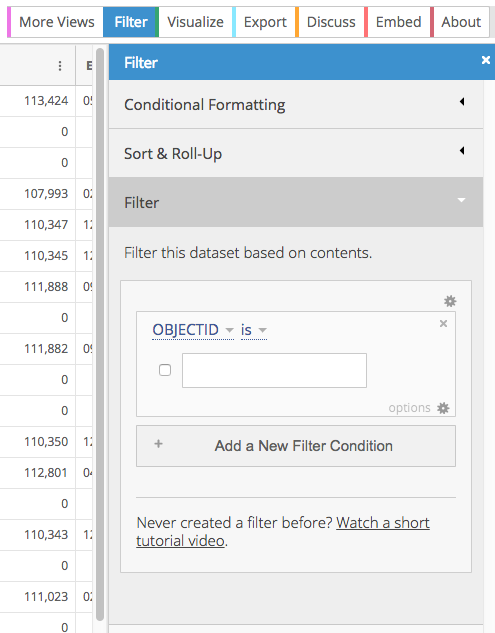 Upon creating a new filter condition, you'll have several operators to choose from:
is
is not
starts with
contains
does not contain
is blank
You can also use the "Options" menu to access additional customization such as filtering conditions matching all or any conditions.
Using these different conditions, you can create a diverse set of filters. Filters are not case-sensitive.
Filter On "AND/OR" Match Conditions
The filter panel currently only allows AND matches.
For isolating rows on OR matches, you can use the conditional formatting tool to apply a color to isolate rows matching any of the match conditions you set.
Navigate to the 'Filter' tab, select When to 'Any Condition', and then conditions to the match options of which you would like at least one to be met. The rows will be isolated visually, but cannot currently be aggregated alone to form their own separate view.
If you want to use an AND match condition in combination with an OR match condition, create a filtered view based off of your AND match condition and use conditional formatting on this filtered view.
Once you have filtered the dataset, you will need to save the view. This will create a Filtered view data type of the dataset. These Filtered views can be searched within the catalog by clicking on the "Filtered view" category on the left hand panel.