Further Explore Advanced Trends
The Advanced Trends (or Time of Day / Day of Week) charts help you quickly and easily see how your data trends relative to time. Now, you can take those trends one step further by clicking on either individual boxes (such as 10am on Tuesday), or the legend to further filter the points on the map.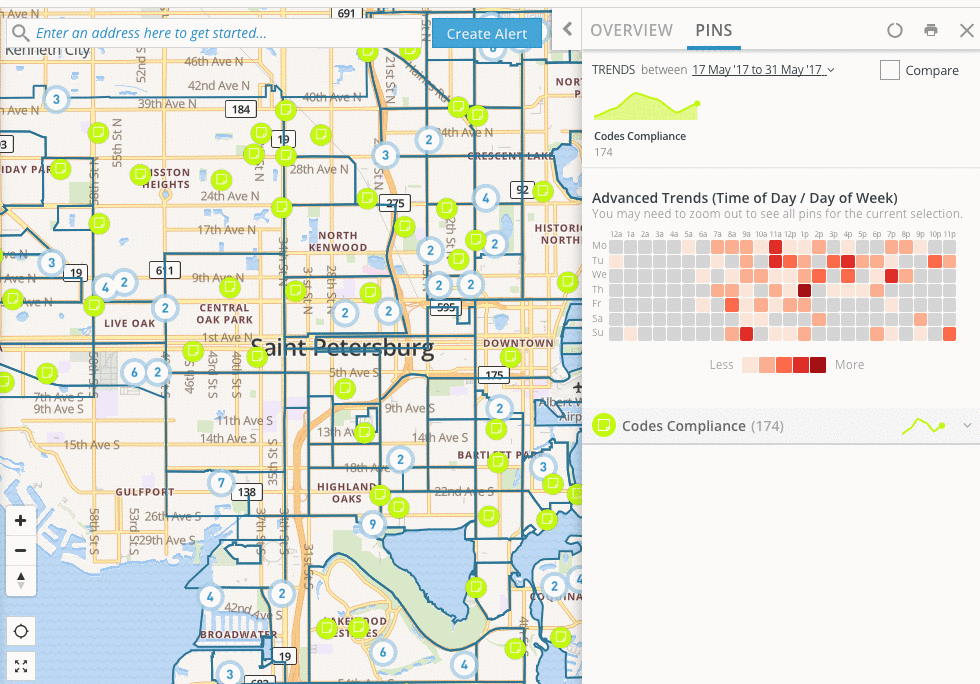 For example, if you are looking at street sweeping issues that are logged, and want to understand where the high frequency times of 10am on Monday and Tuesday are occurring, by selecting those two times on the Advanced Trends chart, your map will filter down to those points so you can determine if the issue is isolated to one neighborhood.
In addition to exploring on your own, you can also share the exact link of the filters you've selected to your colleagues, or you can export the rows you've filtered down to by clicking on the "print" icon in the sidebar.
Read the Knowledge Base articles for more details on how Citizen Connect works.
Auto-Refresh
The data used in Citizen Connect, such as service requests or permits, is often frequently updated nightly and sometimes even every hour. If you have set up a map with specific filters you are tracking, that means you may normally need to refresh the page every morning when you start your day to get the most recent data.
To help users who frequently check the same page, or maybe even have a dashboard setup on a monitor in their office, we've added an "auto-refresh" option that will ensure the map you have open in your browser updates automatically.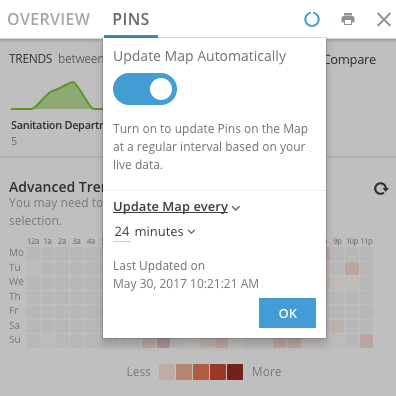 Simply select "Update Map Automatically" and choose the time period you want the map to automatically refresh with new data. Now you can set up your map once and leave it running for as long as desired without needing to refresh or reload the page.
Small Updates & Bug Fixes
You may notice that the maps look just ever so slightly different: the streets are now layered on top of the heat map layer and the choropleth layer, so you'll see the coloring more crisply segmented by streets.
---
Check out our other Product News, and give us a shout at datainsights-support@tylertech.com with questions or ideas.