Once you have imported a dataset, with a point (location) column, you can use the visualization tool to create point, heat, and region maps.
Note: This new experience is currently in Beta and is not available to all customer at this time. If you have any questions please reach out to support@socrata.com.
Accessing the Visualization Tool 
From the landing page of your dataset, simply click on the Visualize button and select Create Visualization. Or, from within the dataset, click the green Visualize tab and click on Launch New Visualization. This will open a new page where you can begin building your visualization!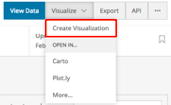 To get started, you'll want to click on the + Add Visualization button in the upper right corner of the page.

Creating Your Map
Once you do this, you'll open up the visualization editor. To create a Map, click on the globe icon to start the map creation process!

Once you have selected the globe icon, some details will immediately generate. To the left of the page, there are four menu buttons that will let you customize your map: Data, Basemap, Presentation, and Legends & Flyouts.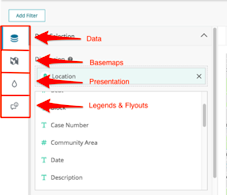 Data
The main component of your map can be found under Dimension. When selecting the globe icon, this field will pre-populate with the location column. If your dataset has more than one location column, you can select an alternative from the list of columns below the dimension field. By default, the map will start as a point map, but it can be changed to either a heat or region map in the Point Aggregation section.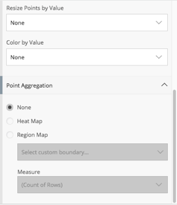 Resize Point By Value
This section allows you to choose a number column whose values you can use to resize the points on the map.
Color by Value
This section will allow you to modify the point colors based on the values of any column in your dataset. Your color palette can be further customized in the Presentation section.
Point Aggregation
In this section you have three options:
None - Keeps your map as a standard point map
Heat Map - Creates a heat map
Region Map - Creates a Region map utilizing custom boundaries already created on your domain.

Select Custom Boundary - A dropdown populated with custom boundaries set up in Spatial Lens.
Measure - Define how your region map is measured, select either a count of rows in the dataset or measure any numerical column using Sum, Average, Median, Min, or Max.
Basemap
In this section, you can choose from a list of base maps as well as configure some of the default display options on your map.
Type
Choose from a list of nine prepopulated base maps, the map will refresh with your selection.
Map Controls
Turn on/off the search bar, locate button and navigate buttons on your map.
Search Boundary
You can select a custom search boundary on the map by shift, click and drag a box on the map to set custom boundaries. These boundaries will bound your search results on the Map.
Presentation
In this section, you can further customize the appearance and presentation of your map.
General
Set the Title and Description of your map, this will display in the map visualization above the map itself.
Color
Choose a color or color palette (when coloring by value) for the points on your map. You can also choose the opacity level of the points themselves.
Point Size
Choose the size of your point or the size range (when scaling points by value)
Cluster
The Cluster section allows you to further customize how your points are clusters on the map. This allows you to customize the size of your clusters and zoom level at which they appear. 
Legends & Flyouts
Flyouts are not configured by default when creating a map. In this section, you can further customize the flyouts for points on the map.
Flyout Unit Label
Edd the singular and plural version of the unit label used when hovering over a point.
Flyout Details 
When clicking on a specific point, these are the details that will be displayed. You can configure a column to be used as the Flyout Title as well as add additional columns to your flyout details.