A derived view is an asset on the platform that is built using a dataset. The derived view might be a filtered, sorted, or rolled up version of the original dataset. Derived views can be useful for making data more relevant to a specific audience, for reshaping data using grouping, and for controlling access to specific parts of the underlying dataset more granularly.
A derived view can be created on a dataset or on another derived view. A derived view created on another derived view treats the parent derived view as a dataset (i.e. the filter, rollup, and sort conditions are not surfaced in the new derived view). A visualization created using a derived view will surface the filter, sort, and rollup conditions of the derived view it is based on.
On the Enterprise Data Platform, the derived view access model uses a chaining concept to enable finer-grained access control. In this model, if a user with access to a derived view does not have access to the underlying dataset, that user will not know that the underlying dataset exists.
Creating a Derived View
From the data table view of a dataset, you can create a new view of that dataset, onto which you can apply filters, groups, and roll-ups. To do so, first you will need to click on the Create View button in the asset action bar at the top of the page:

Once you click Create View, you'll be taken to a page for a draft new asset. There, you can add a Filter, Sort, Group, or Roll-Up using the Filter pane:



Filters
To add a filter to a dataset, navigate to the Filter section under the Filter menu and click the "Add a New Filter Condition" button.
Upon creating a new filter condition, you'll have several operators to choose from:
is
is not
starts with
contains
does not contain
is blank
You can also use the Options menu to access additional customization such as filtering conditions matching all or any conditions.
Using these different conditions, you can create a diverse set of filters. Filters are case-sensitive.
Roll-Ups and Sorts
To apply sorts and roll-ups to your view, click on Sort & Roll-up in the Filter pane.
Check the Sort box to open up the sort options. You can add as many sorts to your view as you'd like.
For Roll-Ups, check the box for Roll-Ups and Drill Downs to get to the menu seen in the screenshot below: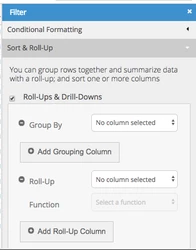 Under Group By select the column name that has the values you want to summarize.
Under Roll-Up, Select the values you want to roll-up, and Function of how you want to roll them up.
Click Apply and you've successfully created your roll-up!
Once you've added all of the filters, sorts, and rollups you want, you can click the Save button at the top of the screen to save your draft asset. You can also click the Publish button to publish your draft. Publishing with unsaved changes will automatically save the changes and publish them.