Accessing the Visualization Canvas
Creating a visualization of your data is easy! Simply log in with your Data & Insights account, which will allow you to create and save new visualizations. Then, from the landing page for a dataset, simply click on the Visualize button and select Create Visualization.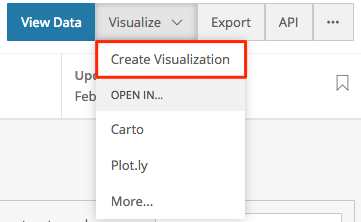 Or, from the data table page of a dataset or view, click the green Visualize tab and click on Launch New Visualization. This will open a new page where you can begin building your visualization!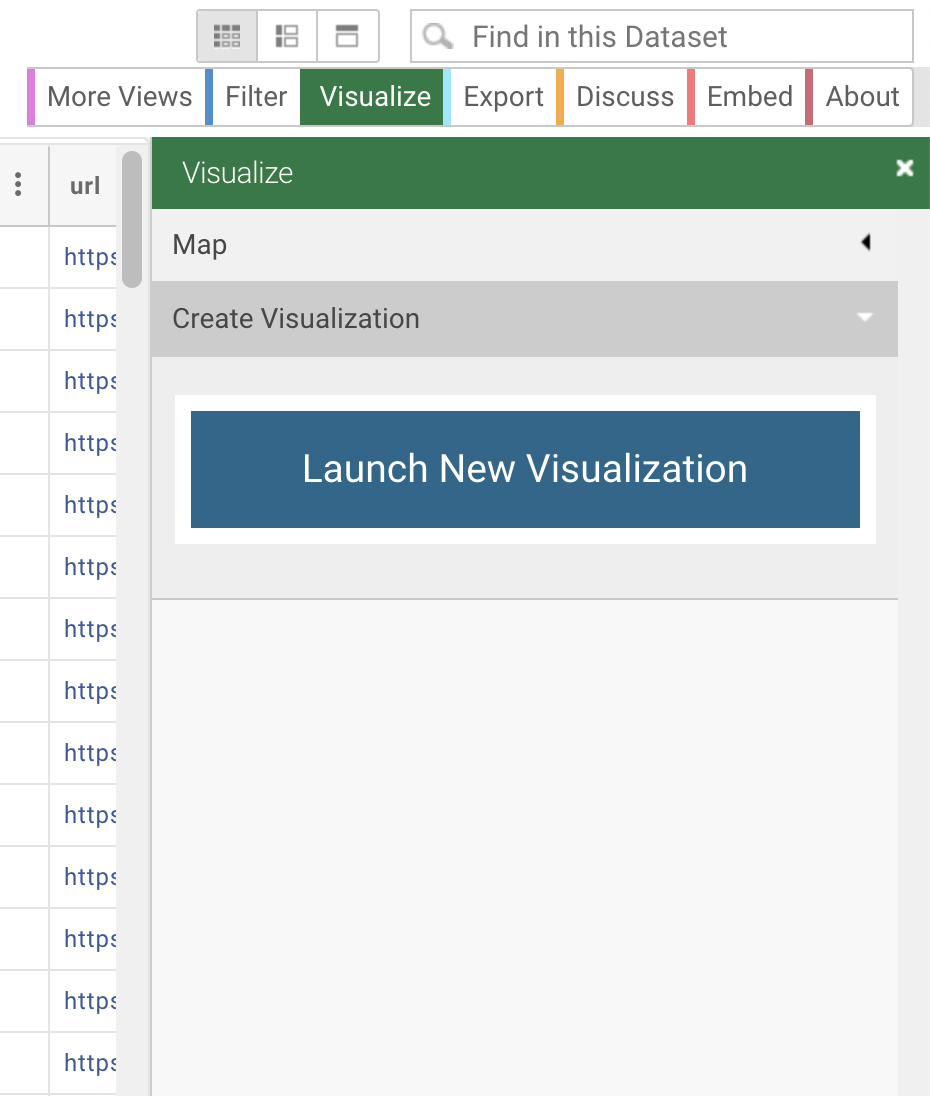 To the left of the page, there are four menu buttons: Data, Axis, Presentation, Legends & Flyouts (from top to bottom). Along the top of the editor, you'll see the visualization types: Bar Chart, Column Chart, Pie Chart, Timeline Chart, Histogram, Combo Chart, Scatter Chart, Map, and Calendar (from left to right).

Configure Your Visualization
Data
The Data menu is where you will define the building blocks of your chart, including what data you want to chart and how you want to group that data. Read on for a breakdown of all of the configurations available in this menu.
Data Selection
The main components you'll need to create your visualization are a Dimension and a Measure.
Dimension: a field that orders, groups, or categorizes your date. The dimension is often shown on the x-axis of the chart, or as points on a map. You can also add additional dimensions to create levels of hierarchy for

drilling into the data.



You can easily search for columns by typing in the Dimension dropdown.
Measure: a numeric field or a count of rows associated with the selected dimension.
To get started, you'll want to first select the columns from your dataset that you'd like to chart, or select the type of chart you'd like to create. If you select a Dimension first, you'll notice small green dots next to the available charts based on the datatype of your selected dimension. If you select a Chart type first by clicking on one of the options, you'll see a Recommended Columns section populate in the Dimension dropdown.
When selecting multiple dimensions or measures, you can easily remove any column within the hierarchy.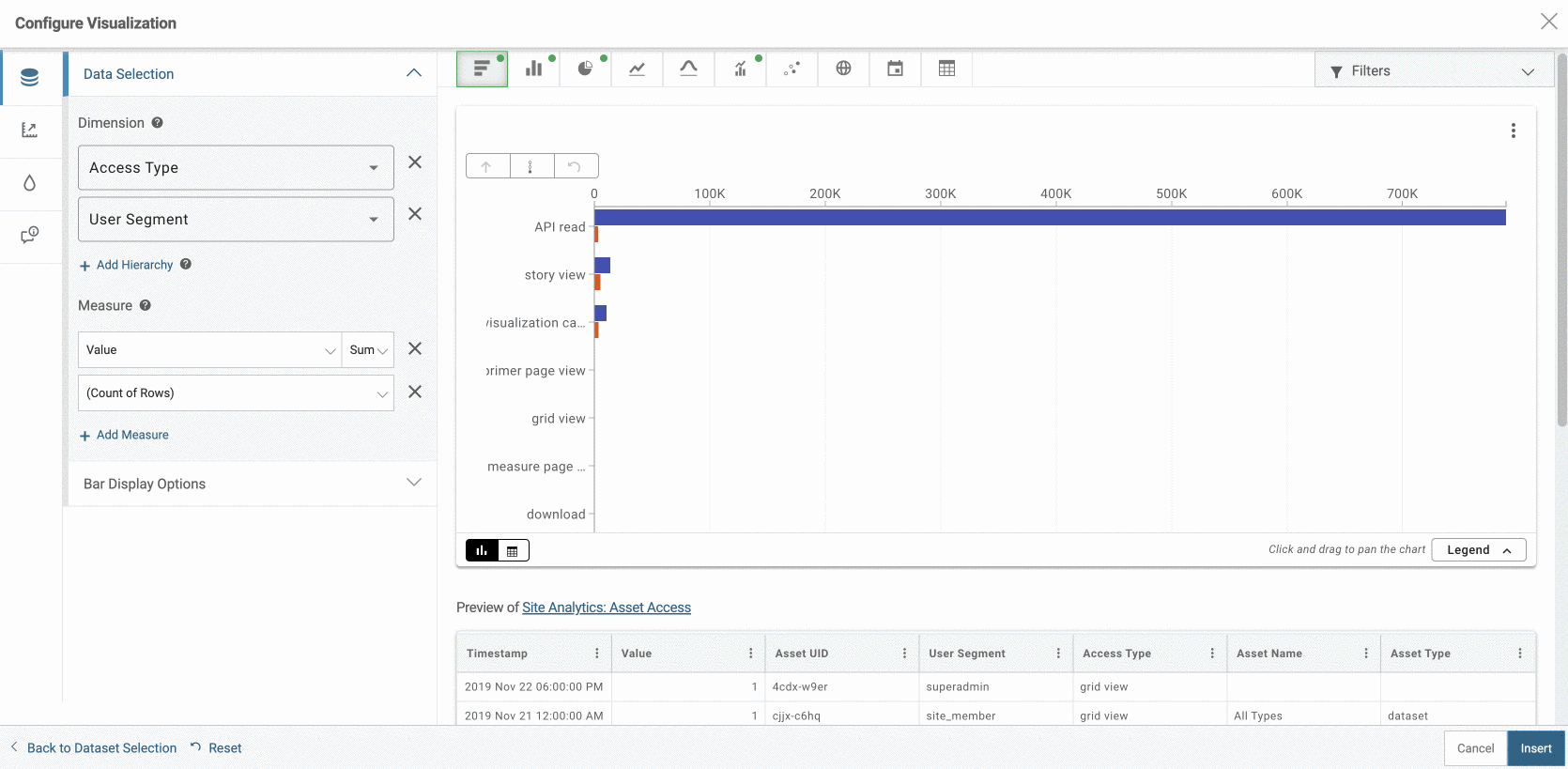 Group Dimension Values
In this section, you can define the column by which you'd like to group your data. Grouping dimension values break out your data into segments based on the selected column.
Bar/Column Display Options (applies to Bar and Column charts only)
Note: For the sake of readability, this section will use the word "column," but the below applies to both bar and column chart displays.
You can use the Multi-Series Display Options section to define whether you'd like series to be grouped, stacked, or 100% stacked.
Stacked column charts will display an aggregation of values in a dataset column. 100% stacked column charts show the ratio of values within a dataset column. Visually, all of the columns in a 100% stacked column chart will have the same height (or length, if you choose to display in bars) since the calculation is being done where the values in every dataset column combine to 100%.
| | | |
| --- | --- | --- |
| | | |
| Fig 1: Grouped | Fig 2: Stacked | Fig 3: 100% Stacked |
You can also decide whether you'd like all of the columns to be displayed, or if you'd like to only display the first 10 results, for example.
A note on distributions in stacked/100% stacked column charts:
The portion of each column that is shaded a specific color is representative of the distribution of that value in the

entire

dataset, not its distribution within the subset of the data representing the value labeled on the visualization's dimension (e.g. x-axis).
Selecting the "Group Remaining as Other" option means that, if we are only showing

n

unique values along the dimension (e.g. x-axis), we will add a final column that collects all of the remaining unique values on the dimension into a vertical "Other" column, also amounting to 100%.
Timeline Display Options (Charts with a date dimension)
For timeline charts, this menu section is where you can define whether you would like your data to be grouped by Year, Month, or Day. Timeline charts can display a maximum of 1000 rows or 1000 points of time, so if your timespan is longer than 1000 units, you may want to group the time unit.
Error Bars (Bar and Column charts only)
For bar and column charts with a numerical dimension, you can add error bars by defining a column that contains your Upper Bound and Lower Bound. You can also modify the color of your error bar in this menu section.
Axis
The Axis menu allows you to further configure your visualization, including setting the axis scale, sorting, and adding reference lines for key benchmarks.
Scale
To set custom axis bounds, select Custom and type in your Maximum and Minimum values.
To set a logarithmic scale for a timeline chart, check the Logarithmic scale checkbox. This option is best used when analyzing a large range of values.
NOTE: When a logarithmic scale is used on a timeline chart, the ability to have custom precision and displaying missing or null values as zero will be disabled. Negative numbers and/or zero will not be plotted correctly on a timeline chart with a log scale.
Chart Sorting
Select how you would like your chart to sort:
By Value: numerically ascending or descending
By Label: alphabetically ascending or descending
Reference Lines
Add reference lines along the y-axis of your chart by defining your reference line value and giving it a label and color. This is great for noting targets and other benchmarks directly on your chart.
Presentation
In this menu, you get to customize the look of your visualization by selecting colors, as well as updating the text labels for your visualization.
General
This is where you can update your visualization Title and Description. You can also uncheck the Show "View Source Data" link box if you would prefer not to surface a link to the underlying data below your visualization.
Color
Choose a color palette for your visualization, or create a custom color palette using the available color options.
Label
In this section, decide whether you want your dimension to be labeled.
Axis Titles
Use this section to set your horizontal and vertical axis titles.
Legends and Flyouts
Flyout Unit Label
Here, you can override the unit label that shows when hovering over your visualization by defining the Singular and Plural unit label you would like to display.
Annotations
When a timeline chart is used, you can add annotations to specific dates.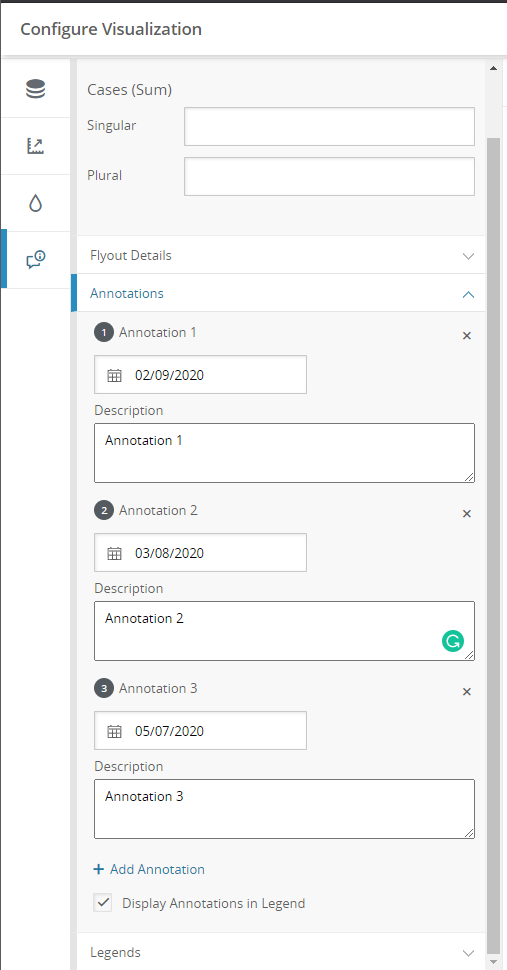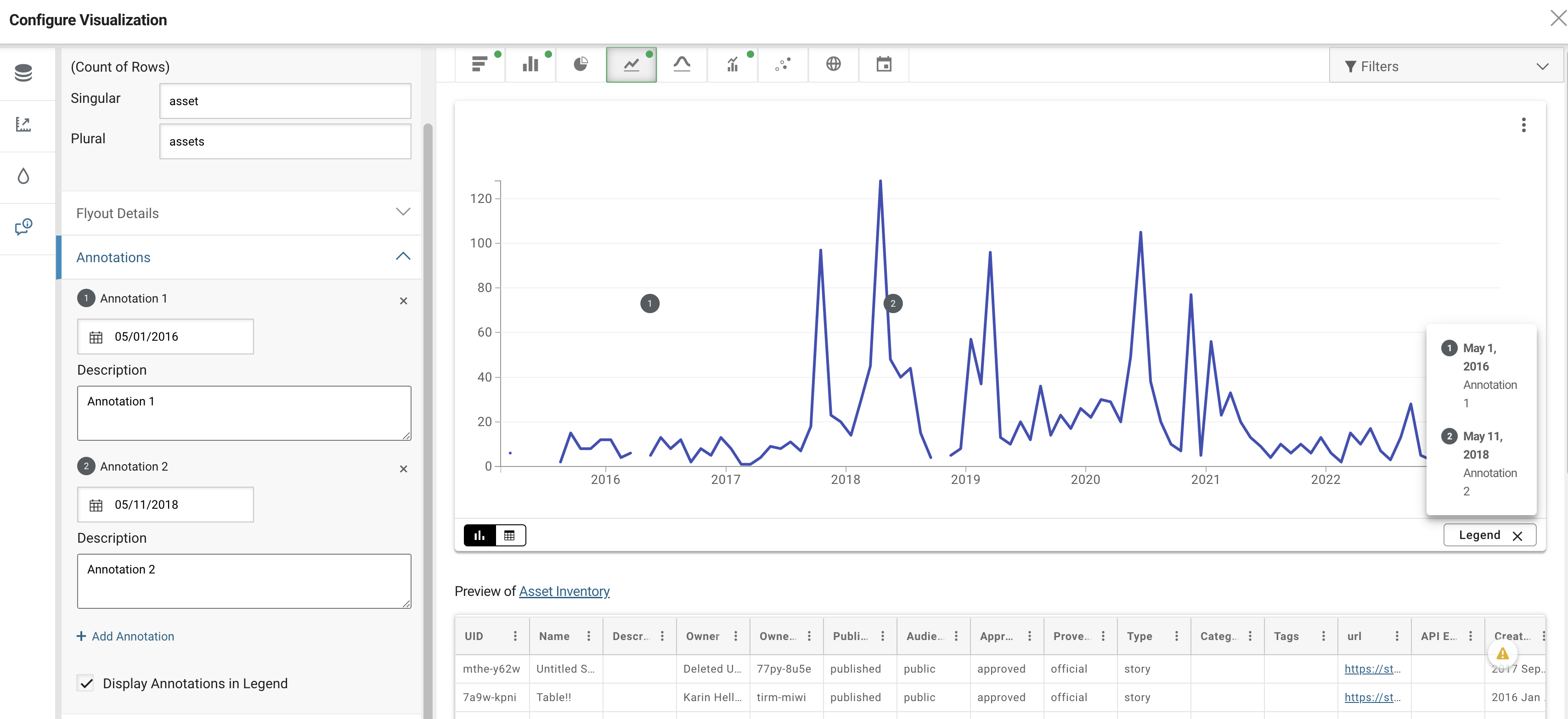 NOTE: Annotations are only available on timeline chart type visualizations. Each annotation is added and numbered based on the order they are added.
Legends
In this section, you can decide whether you want your legend to be visible on the visualization. Legends are automatically minimized and users must click on Show Legend for the legend to be expanded.

Overlay Legend




Right Inline Legend




Left Inline Legend


Add Filters to Your Visualization
Throughout the entire editing and creating experience, users are able to apply filters to their visualization by using the Add Filter button located in the Filters panel on the right-hand side of the page. Filters will be instantly applied to the visualization and have the option of being hidden by the visualization creator or viewable to the public.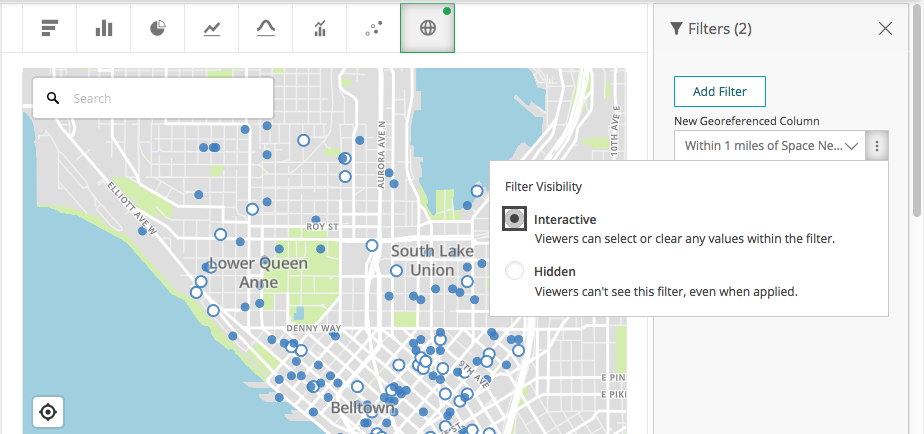 Summarized Table of Your Visualization
Your newly created visualization will come with a summary table. This table will contain a summary of the data captured in your visualization. This table is viewable but does not support sorting, filtering, or hierarchies. However, it will update to reflect any filters used on your visualization.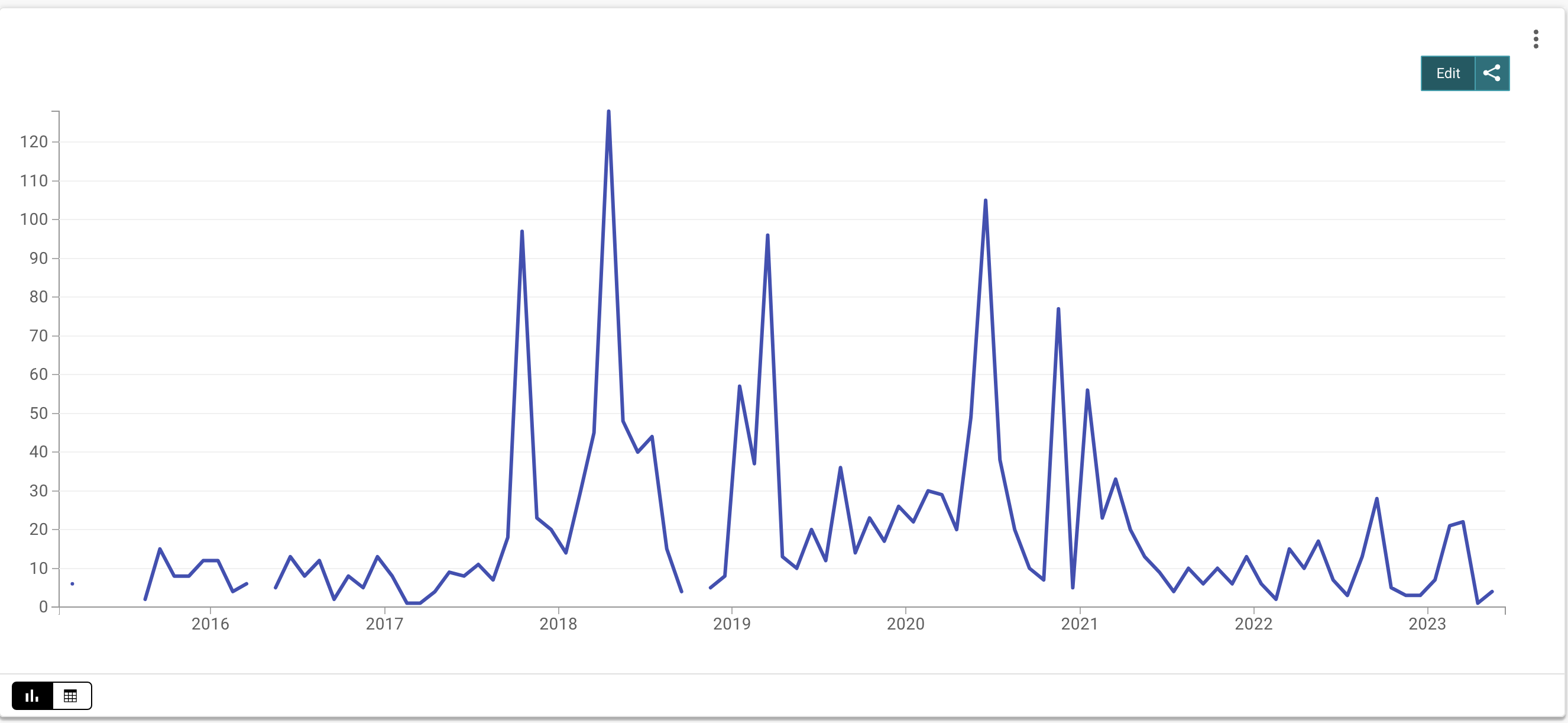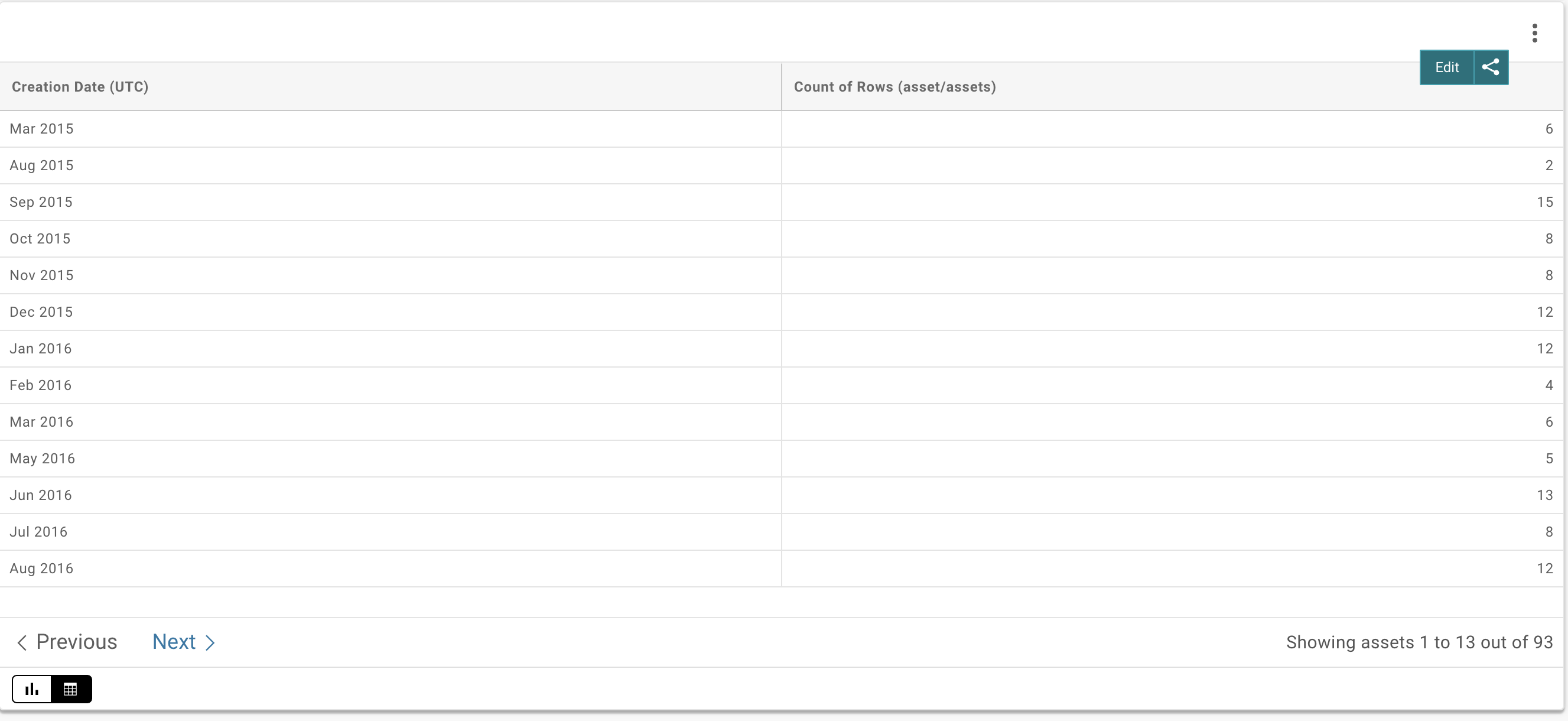 All charts, calendars, and maps will have a summary table. For charts and calendars, there is a summarized table of data. For maps, there is a table containing all underlying data for the map. The Summary Table is also accessible when visualizations are inserted or are created within a Story.
Insert, Manage, or Embed Your Visualization
Clicking Save Draft prompts you to name your visualization and then places the configured visualization onto the Canvas. From here, you are able to Publish the visualization.
Your newly created visualization will live under "More Views" section of its associated dataset and Primer page. It will also live in the catalog, if the dataset is public.
You can embed your visualization by clicking on the

next to Edit in the top right corner of the visualization. Read more about embedding datasets here.
When you make filters editable within a visualization, users can interact with these filters within your embed too!