Coaching starts with your questions and goals, front and center. We know that unlocking the power of your data to inform the public, empower your colleagues, and inspire data-driven decision-making is not a one-time project. We invite you to work with a Data & Insights expert who can share tried-and-true practices about the Data & Insights platform and help solve your real-world questions or roadblocks.
What is Coaching?
Data & Insights Coaching is designed to help increase the value of your existing Data & Insights services, included as a post-implementation system of support, a part of your Silver, Gold, or Platinum Support Program. Coaching is targeted learning based on a particular use case. You and your Coach will partner on a particular set of questions, issues, or technical roadblocks you might be encountering related to that use case – this could range from creating effective visualizations, setting up metadata, to configuring a data automation workflow. We'll help you get from point A to point B.
Examples of where Coaching has moved the needle: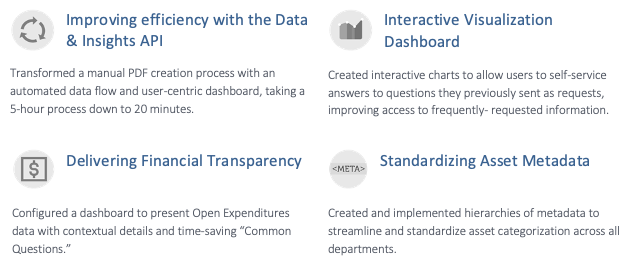 How Does a Coaching Session Work?
A Coaching Session is a self-contained one-hour engagement, conducted remotely, and typically one-on-one but may include up to three attendees. Our goal is to help develop and advance Data & Insights platform understanding as your data program evolves. To accomplish this, we'll partner with you to dive into your questions, a goal you have, or roadblock you're facing to help you strategize the most suitable option(s) based on your unique situation. Your Coach may demonstrate applicable techniques, tools, or procedures with to help you achieve success.
Coaching Topic Examples
Data publishing

Data automation

Metadata setup and configuration

Roles and Permissions

Leveraging Site Analytics to inform focus areas

Finance Insights dashboard configuration

Header and Footer Management

Administering Stories

Configuring a performance goal

Public Finance configuration

Setting up your Esri Connector

Federating content

Visualization building
Scheduling a Session

Clients with a Support Package of Silver, Gold or Platinum have access to a Data & Insights Coach. To schedule a session either reach out to your Data & Insights Client Success Manager (CSM) or send an email to datainsights-support@tylertech.com. Sessions are typically scheduled one week in advance.
To help maximize your time, please include the following information:
The topic of the engagement
Specific goals or desired session outcomes
The Data & Insights site(s) to be used during the session along with a link to any specific datasets, if applicable
Relevant data files (csv)
Your preferred days or times
Session Cancellation Policy
We work hard to ensure that our team is well-prepared and focused on each engagement. If you need to reschedule your Coaching Session, please provide 48hrs notice by emailing datainsights-support@tylertech.com. If we don't receive adequate notice, we may deduct from your Coaching Hours half of the scheduled time.
More About Coaching
Learn more about our Support Programs and Policies at the following link: Support Policy.