Socrata offers comprehensive Customer Support Programs to our customers. The Customer Support Program will be referenced in the license agreement or order form for Socrata. This document describes the policies that govern the Socrata Customer Support Programs. It defines the Customer Support Programs, their coverage levels, priorities, and response times. Should you require further information, please contact your Socrata Account Executive. 
Customer Support Programs
We are committed to helping you make your Socrata solution a success. We understand that each organization has unique needs, and our Customer Support Programs are designed to let you choose the right program to meet your team needs. To ensure your success, we offer the following customer support plans with various services included as defined by program.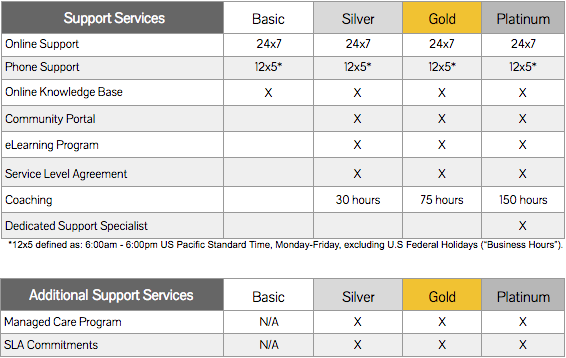 If you have previously purchased one of our legacy programs such as Support - Premier. Please contact your account executive for more information.
Online Support
Socrata Customer Support is a service provided for reporting and tracking issues with the Socrata Platform and products. It includes the ability to enter new requests and track status and any updates regarding previously reported issues. The Customer Support Center is accessed through the Knowledge base at https://support.socrata.com/. Email support allows users to email: support@socrata.com to receive assistance over email.
Online Knowledge Base
The Socrata online knowledge base is available at http://support.socrata.com/home. The portal provides the online how-to guides, frequently asked questions, videos, and a library of information to support a best practices approach to using Socrata. It also serves as a portal for accessing the other support features.
Community Portal
The Socrata Community portal is available at https://socrata.influitive.com/join/socratadatacrats. The portal is an online community of Socrata experts and customers for sharing ideas, experiences, asking questions, and providing suggestions for success with the Socrata platform.
Phone Support The Phone Support option allows users to call Customer Support Specialists ("CSS") at 1-(888)997-6762 and receive assistance over the phone. All requests logged over the phone can e statused online.
Coaching
Consulting Coach hours allows you access via phone or online video consulting with one of our Socrata Consulting coaches. These hours can be used for questions or issues with data ingress, publishing datasets, curating visualizations, creating stories and other topics once a customer has launched a site into production.  A coaching session can be scheduled by contacting Support.
Dedicated Support Specialist
A dedicated Customer Support Specialist will be assigned with the Platinum Support Package only. A dedicated Customer Support Specialist (CSS) will be assigned to the account to manage and prioritize all logged requests. Each The CSS is available during Business Hours (defined above) . This plan includes bi-weekly status calls with the account Core Team and the representative to ensure that requests are prioritized and managed to a reasonable resolution.  It also offers one onsite visit per year. 
Hours of Operations ("Business Hours")
Socrata Customer Support is available during the following business hours (Pacific Standard Time) weekdays 6:00am - 6:00pm, excluding U.S. Federal Holidays.
Socrata Customer Support will observe the following US Federal holidays (CSS will not be available these days):
New Year's Day

Martin Luther King Jr. Day

President's Day

Memorial Day

Independence Day

Labor Day

Thanksgiving Day

Day after Thanksgiving

Christmas Day
For information at any time on the status of Socrata's platform and services, we maintain a status site at http://status.socrata.com/. We recommend all customers subscribe to updates.  
Submitting a Support Request
Support requests can be logged in the following manner (according to the your support plan):

A Support request is a single, reproducible problem, issue, symptom or question relating to the Socrata software that requires assistance to resolve. Socrata will work with the customer contact to resolve the Support Request. Examples of how requests may be resolved (closed) include:
The end user advises that the Support Request is resolved or can be closed.

The issue is found not to be due to any error in the Socrata software.

Information is provided to the end user on how to correctly use the Socrata software.

A workaround to achieve similar results is provided and accepted by the end user.

The end user is informed that a version release that contains the required correction is scheduled.

The Support Request is a feature request or enhancement and has been logged with the product team and prioritized accordingly.

The Support request is a change in existing functionality and has been prioritized as a product enhancement.

The Support Request is identified as a third party vendor issue and the end user agrees that the Support Request can be re-assigned to the third party for resolution.

It is determined that the end user would benefit from additional training and education on the Socrata software and recommendations are made accordingly.

The issue cannot be reproduced in a standard environment and has been referred to Socrata Consulting Services to assess End User local and/or environmental issues.

The Support Request has been open for more than 10 consecutive business days awaiting a response from the end user.
 Support Request Handling
There are typically four phases in the process to resolution for a Customer Support Request: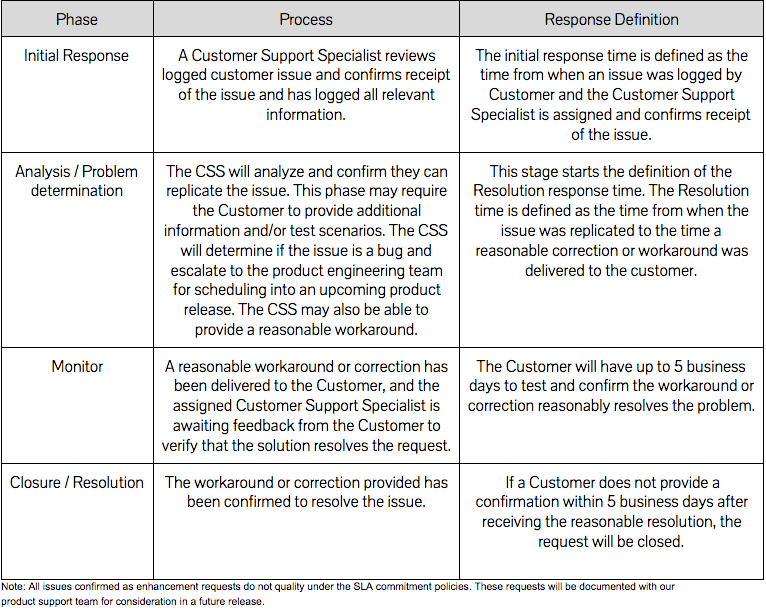 The web interface at https://support.socrata.com/hc/en-us/requests/new is a good method of submitting tickets to the Socrata Support team. Customers may submit any issue online, and monitor previously submitted issues. To log an issue, simply send an email to support@socrata.com, or call our support line at 1-888-997-6762. 
Customer Support Request Priorities
Each Customer Support Request is assigned a priority by Socrata based on the technical severity of the request. The combination of Customer Support Program and Request Priority determines the SLA commitment time frame. Request Priority is determined by:
The Customer's ability to use the software to execute the intended business function;

The extent to which the Customer is unable to perform that function; and

The impact on the Customer's business in the standard use of the functionality as designed by Socrata.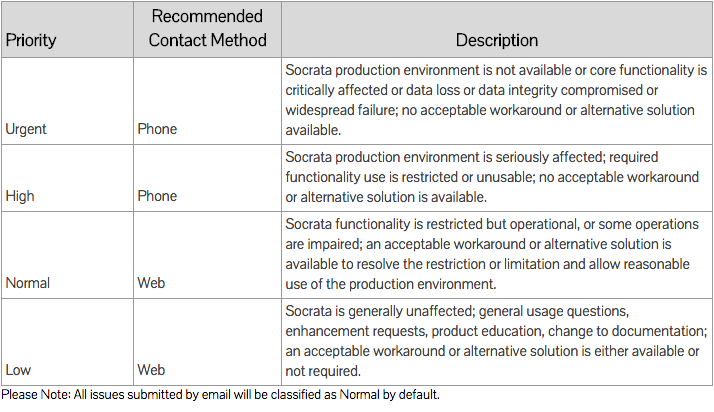 Support Request Target Resolution Times
Customer Support Requests requiring product code changes will not be held to the corresponding Resolution Times; however, in the case of a product defect, with an Urgent priority, reasonable attempts will be made by Socrata Engineering to provide a correction and/or Customer Support to supply a workaround. Customer Support Requests are often resolved more quickly than the target times.


 Defect Resolution Process
Customer Support Requests reported to Socrata may be confirmed as a product defect. In the event that a product defect is confirmed and a fix is required, Socrata will take reasonable measures to ensure a timely release of a fix to the product defect, in keeping with our current standards for software development, testing, quality assurance and production release.
The following outlines the process for resolving a confirmed product defect:
Customer reports the issue to Socrata Customer Support and a Customer Support Request is created.

Socrata Customer Support works with the Customer to determine if the issue is a product defect and will document the symptoms and the steps followed to duplicate the issue. A defect report of the issue is created.

Once the issue has been documented, it is escalated to a Socrata Engineering Manager for additional troubleshooting and diagnostics. Socrata Customer Support will continue to provide updates to Customer.

Upon completion of diagnosis and understanding of cause and definition of correction required, the issue will be assigned to a Product Development team.

The Product Development Team will schedule into the appropriate release cycle and determine an estimated date for the release of the fix.

Quality assurance verifies the fix and confirms the estimated deployment date for the specified defect.

Customer Support will provide updates to the Customer during the process and when the fix has been deployed.

Customer will verify the fix in their environment and confirm it reasonably corrects the defect.

The Customer Support Request will then closed.

 
Scope of Support
Support is provided whereby the end user identifies a problem or issue that is a reproducible problem and the issue or symptom is relating to the Scorata software requires assistance to resolve.
For information about supported browsers, please visit: https://support.socrata.com/hc/en-us/articles/202951618
Examples of support requests that are included within a Support Plan:
The Socrata software does not perform substantially in accordance with the current documentation.

The end user is unable to make the Socrata software platform perform substantially in accordance with the then current documentation

The end user is unable to gain access to the Socrata software.

The Socrata software does not appear to be operational or function as designed.
Examples of support requests that are NOT included within a Support plan (but not limited to):
Issues arising where significant training is required to assist the customer. (These will require guiding customer to online education options or their Account Executive to provide them with an Education program that is appropriate.)

Issues arising from the completeness, accuracy or quality of data. (These can be resolved with a consulting services engagement)

Changes to the Socrata environment that would normally relate to implementation activities, such as modifications to customizations, integrations, etc.. (These can be resolved with a Consulting Services engagement)

Bug defects caused by internet browsers outside of

Socrata's supported browsers

.

For support requests not included within a support plan, Socrata may respond to such requests on a time and materials basis.
Additional components of your Support Plan:
New Releases: Features new capabilities and improvements in scalability and performance

Maintenance Releases: Incremental changes that address any issues with the software that have been reported by customer or through Socrata's own investigations.

 
Support Maintenance Schedule
Please see Socrata's Maintenance Window Policy article for more detail.
We at Socrata strive to maintain the highest levels of availability for its customers sites. However, some maintenance may require us to bring our platform down for short periods of time in order to perform upgrades or network changes. This is a standard policy in the SaaS world, and give us the chance to fix bugs, improve security, and add the capability for exciting new features while minimizing the disruption to our customer base.
We schedule maintenance windows once per month where we reserve the option to bring the Socrata platform down for maintenance and can be viewed as status.socrata.com. 
The maintenance window schedule is subject to change. Socrata will provide a window maintenance schedule notice upon login for any scheduled maintenance outside of these normal scheduled times.
On-site maintenance notification reminders will be posted publicly on each Socrata-powered datasite at least 48 hours before the beginning of the maintenance window. An alternative status page will be displayed during scheduled maintenance windows.