Viewing Default Roles
Configurable Roles can be accessed through the Administration section of your site, under Roles & Permissions.
Once in this section, you will see a table breaking down the default roles: Administrator, Internal User, and Guest. Rights are broken down into eight different sections: Administer Site, Explore and Manage Assets, Manage Perspectives, Manage Performance Insights, Automatic Sign Out, Manage Design and Navigation, Manage Site Connections, and Moderate Community Activity. A check mark indicates that the role contains all rights in the particular section, and a dash indicates the role contains a subset of rights in the section. You can expand any section to see a list of the rights included.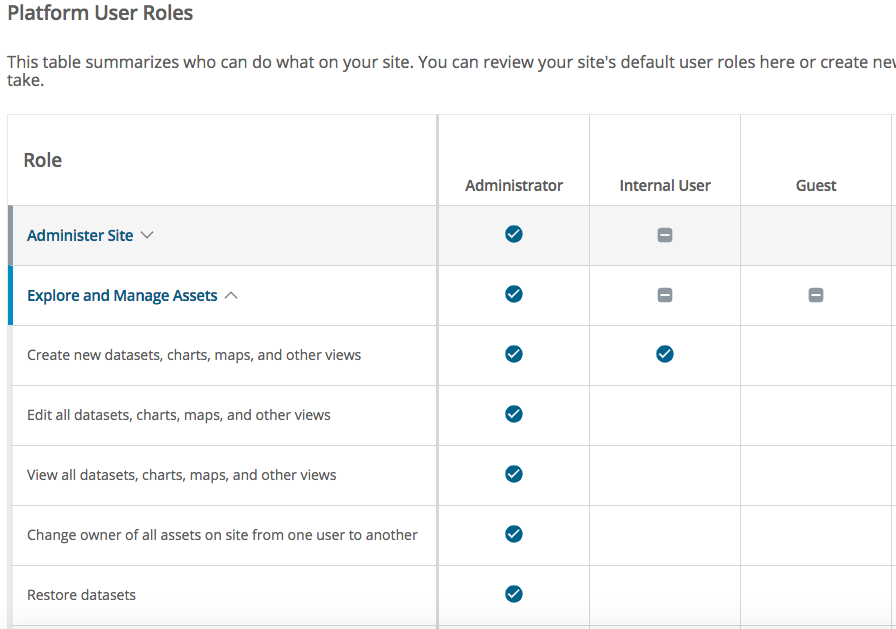 You may notice the Guest role only has one right – that's because this role is specifically for users who aren't members of your organization but need to be able to collaborate on your data. For example, you might invite an academic researcher into your site with the Guest role to collaborate on visualizing data related to their field of study.
Note: Guests will not be able to update or publish any changes for assets they are contributing on.
Create and Edit a New Role
To create a new role, first select the New Custom Role button in the top right corner of the page. This will open a pop up that will start the process of creating the role. In this window, you can name your role and choose if you would like to start the role from scratch or base it on an existing platform role.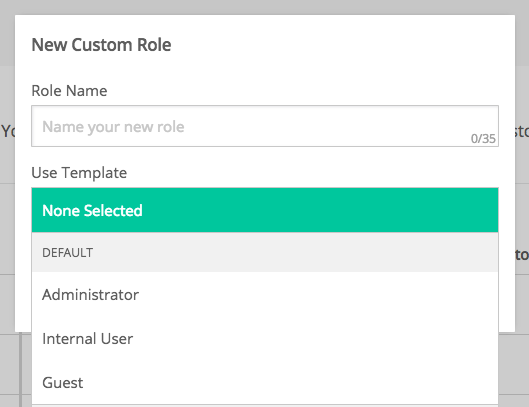 Once you have created your new role, you can expand each section and check the rights you would like associated with the role. Selecting the top row in a section will check all rights for that area. Once you have your rights setup, save the role and start assigning it out!
You can edit the configurable role at any time by selecting Edit Custom Roles. Note this will impact any users who are currently assigned to this role.
Deleting Custom Roles
If you no longer want to continue using a custom role, remove all current users from the custom role and then delete the role by opening the role's dropdown menu.
The number of users that are currently assigned to a role are noted at the bottom of the matrix and can be accessed to link to a list of users on the user management page.