This tutorial will show you how you can share a dataset with a user and how you can configure what permissions they have on that dataset.
An individual asset can be shared with up to 10 users at one time using the 'Add More' option. To invite additional users, please repeat the steps below.
1. Access the manage panel and go to 'Invite & Manage Collaborators'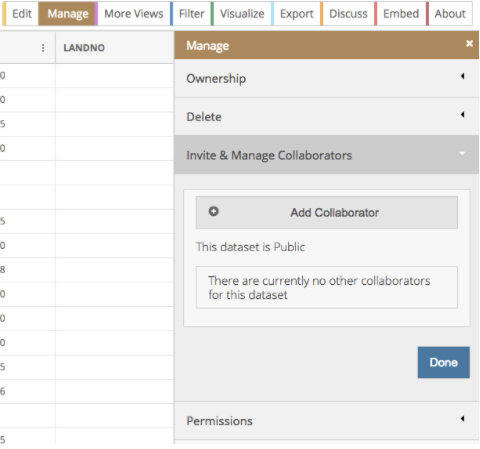 In Data Lens, you access this functionality through the Manage button.

2. Click on the 'Add Collaborators' button. You will see the following pop-out -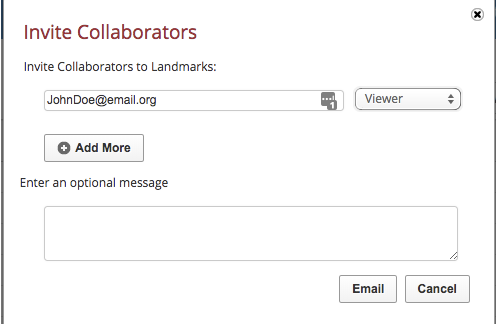 In Data Lens, that pop out looks like this and includes Co-owner instead of Owner.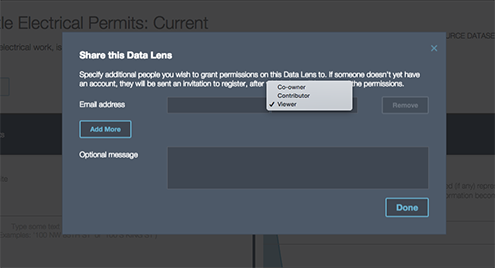 Here you can input multiple emails for users you want to share the dataset with, and set their permissions to either Viewer, Contributor or Owner. Be sure to hit "save" before closing the Manage pop out in Data Lens.
For more on what these different dataset permissions entail please refer to this article - Understanding User Roles.
3. Once you click 'Email', an email will be sent to those users notifying them that a dataset has been shared with them and a link to said dataset will be provided. 
Once the users are added, you can change their permissions or even delete them at a later stage. If any changes are made to the dataset or just want to communicate something with all shared users, you can choose to send an email via 'Notify All of Changes'