Update: View Moderation is no longer available for new customers and is in the process of being deprecated. If you are interested in using this functionality please review our Approvals article, reach out to datainsights-support@tylertech.com for more information.
Note: You can see other features that are set to deprecate in our Deprecations Roadmap article.
What is View Moderation?
On your site, users can create views such as charts, maps, or filtered datasets, and you can either allow all users to save these directly to the site catalog, or you can allow users to create views that enter a queue before they are shared with the public.
To enable view moderation, please send a request to datainsights-support@tylertech.com, but first, a few points to highlight before enabling the feature:
A view that is created and saved by an individual user but not approved through View Moderation can be seen by anyone who has the URL that links directly to that view (for example, if a user shares the link with friends). Rejecting a view will not delete it, but will prevent it from being visible/discoverable in the public catalog for your site.

Any view created by an Administrator or Publisher on your site will not be subject to View Moderation approval and will be automatically public/discoverable in the catalog for your site. Views created by any other users (Editors, Designers, Viewers or public users with no role) will need to be approved.

As soon as View Moderation is activated on your site, it will retroactively apply to all views (filters, charts, maps, etc) that have been created on top of datasets on your domain. This means that all existing views (but not source datasets) created by non-admin users will be removed from the public catalog until they are moderated. We can coordinate with you to enable this feature at a convenient time when you have resources available to moderate existing views.
How do I use View Moderation?
Once moderation is turned on, user-created views and comments will enter a queue and require administrator approval before they are displayed to the public. To access the moderation queue, navigate to the administrative panel. Then choose View Moderation.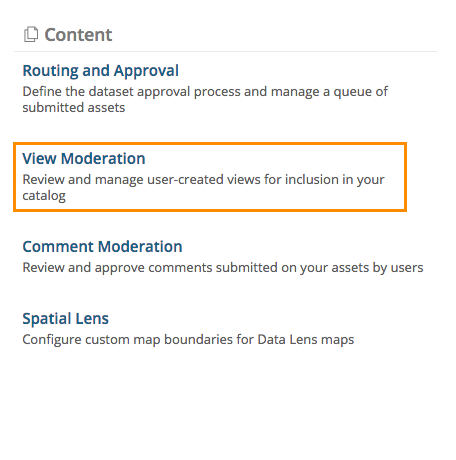 From there, you will be directed to a queue of views for moderation. Site administrators can "Accept" or "Reject" each view.

Once you have accepted or rejected a view, a status will appear notifying you of the changes made.

There is no notification sent to the user who created the view after you have either approved or rejected the view.