Overview
The Activity Log page gives Publishers and Administrators a view into the activity on their site. It shows records for dataset imports, updates, and recent deletions, in addition to other site updates like user role changes, asset permissions and collaborator updates, and more. This page is a great way to get a sense of what changes are being made on your site.
We have been tracking new events starting in February 2018 so you can now view these past events as well as all new ones going forward!
The Activity Log can be accessed from the admin menu: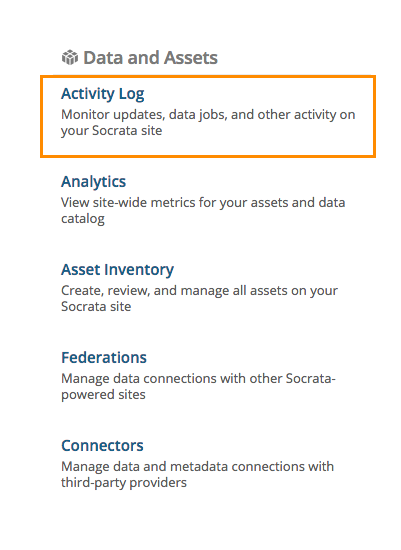 Or from the Internal Navigation Menu: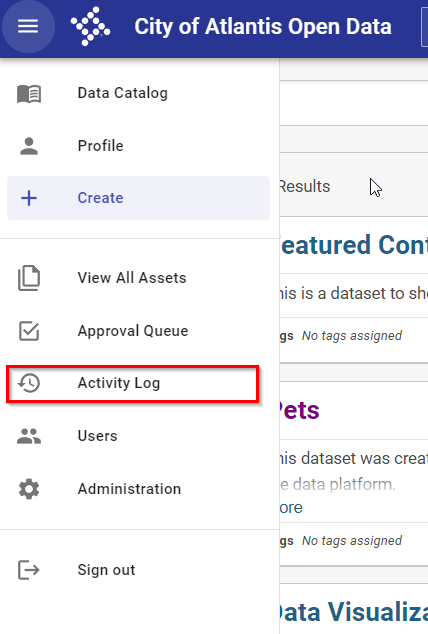 Once you navigate to the Activity Log, you will see a list of activities, with a few key components on the page:
Filter pane on the right-hand side that allows you to filter by date range, asset type, activity type, and who initiated the activity

A search bar for finding activities performed on specific assets

Data Update Failure tab to quickly view activity related to data update failures

Deleted Assets tab to quickly view deleted asset activity
Note: The search function is case sensitive and works best when searching by how the title of Item Affected starts.

Event Types
There are a number of events listed in the Events drop-down that pertain to various updates on the platform including data updates, metadata updates, approval decisions, user management, and asset permissions. The events are named in a straightforward manner and should be easy to understand. However, if you have any questions about what an event means, you can always reach out to Data & Insights Support at datainsights-support@tylertech.com.
Please note that only Administrators are able to see the user management-related events.
Deleted Asset Tab
Clicking on the "Deleted Assets" tab instantly filters the Activity Log to only show asset deletions. This can be useful if you want to restore a dataset.
For up to 14 days after a dataset is deleted, Publishers and Administrators can restore that dataset from the Activity Log page.

When restoring a dataset that has been deleted, only the dataset will be restored. Any derived views, such as a chart or Data Lens are permanently deleted when the dataset is deleted.
All non-dataset assets cannot be restored.
Note: You may see several entries for the same dataset if it has been deleted. This is due to the existence of synced copies of the dataset on our backend. Additionally, synced copies are not retained, so they will need to be recreated after a dataset is restored.
Data Update Failures Tab
Clicking on the "Data Update Failures" tab instantly filters the Activity Log to only show data update failures for data updates submitted via the web interface, DataSync, and the Dataset Management API.
For Failed jobs, clicking on the View Details link surfaces a window with more information on when the job failed and more descriptive details about the failure.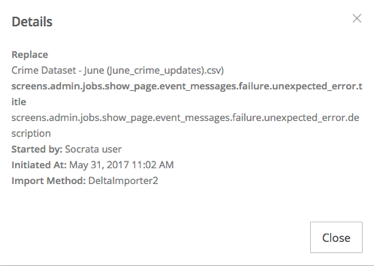 If you're using DataSync 1.7 or higher to update your data and you selected "Set Aside Errors" from the user interface (or indicated this in your control file), you'll see another status - Completed with Problems.
For jobs that have Completed with Problems, clicking on the link surfaces a window with more information on when the job failed and more descriptive details about the failure. This window will also have a download link for a CSV of the specific rows that failed.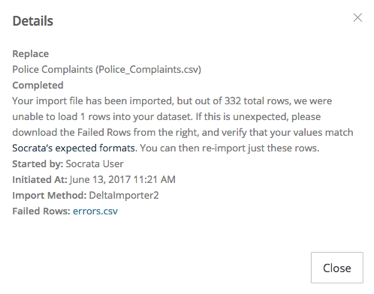 The user can also see an extra column in errors.csv that describes the error per bad row.