As an Administrator on a Socrata-powered data site, you can assign a number of special roles to other users. This will allow you to delegate tasks on your site and enable other users to create and manage datasets.
Socrata users can have roles on a domain. A role defines the types of actions that someone can do for all datasets on the domain and things about that domain itself. Examples of these actions include importing data, adding features, or managing users. A Socrata user can only have one role per domain. The set of roles are Viewer, Editor, Designer, Publisher and Administrator.
Socrata users can also be assigned permissions for particular datasets. Permissions define the types of actions available to a user for one specific dataset. Examples include editing, viewing and publishing that dataset. Permissions available at the dataset level are: Viewer, Contributor and Owner. These permissions can be granted to users with or without a role on the domain.
Roles are the most powerful thing -- they overrule whatever other permissions a user may have. If you're an administrator on a domain, for example, no one can lock you out of being able to view or edit any datasets on that domain. 
Below is a table of r
oles 
and their respective capabilities. Note that there is no distinct order of roles -- everyone's capabilities are a unique combination of things, rather then a given set of abilities that consistently increase.
Creating visualizations (filtered views, maps and charts) from existing public datasets on a domain does not require any role or special permissions. A user doesn't even need to be signed in to use the visualization tools available for the data because it's open and meant to be explored. 
Domain-Level Actions
Domain-Level Actions are affected by a user's role. Here's a matrix to explain it.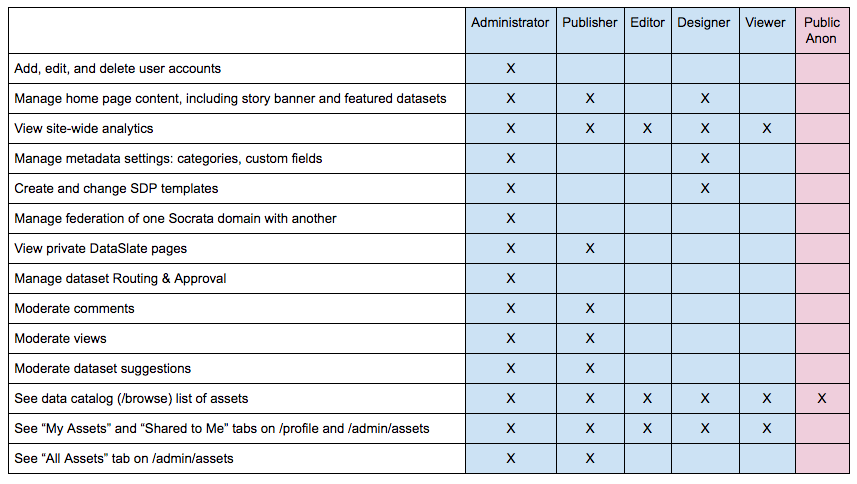 View Level Actions
View-Level actions are affected by a user's role and any permissions on the dataset and view. Here's a matrix to explain it. A user can be granted the ability to complete an action either by a Domain or Dataset Role.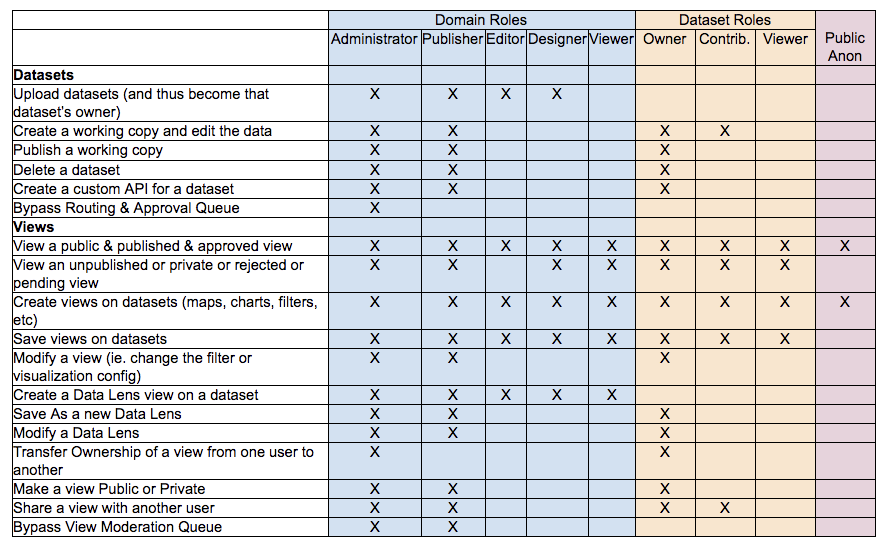 For information on how to manage the role assigned to users, see the knowledge base article "How do I manage user accounts and roles on my data site?".