We've added features and improvements based on customer feedback!
Edit Data Lens Page Description

We added the ability to edit the Data Lens page description so that data publishers can better communicate the information visualized on the page.
You can format your text and add links to the page description.
Indicator for Dismissing Filters on Bar Charts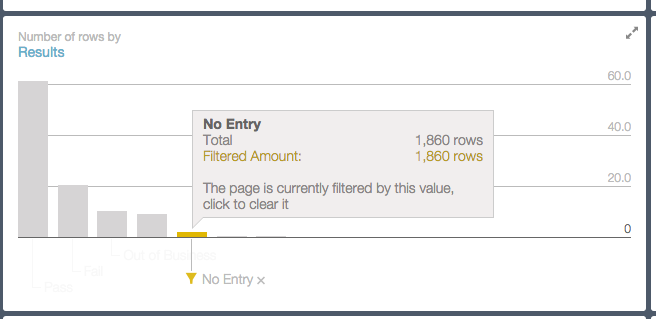 We added an indicator so that users can more clearly see when data is being filtered on bar charts, especially in the case when the bar is small.
The new indicator also makes it easier to click and dismiss a filter.
Customizable Header Color

We added the ability to customize the header of Data Lens pages per domain so that customers can make sure that the header looks great with their own logos.
To customize the header color and logo for your domain please contact Socrata support.
Selected Bug Fixes and Patches 
Remove the last updated field from the Data Lens page

previously, the late updated date didn't always accurately reflect the last updated timestamp of the source dataset.  we have removed this field for the time being.

X-axis labels preserves casing

previously all labels on the X-axis were using title casing.  now they retain the casing of the values in the source dataset, e.g. WA stays as WA instead of Wa.

Fixed search card for columns with named "name"

previously columns with the name "name" would result in a blank card when trying to add it as a search card

Currency formatting from the source dataset is preserved in the Data Lens table card.

previously columns of the type "money" on the Data Lens page wasn't formatted the same way as they were in the source dataset, e.g. "$96,240,231" was displayed as 96240231

Column chart X-axis labels accurately display inline spaces

previously when cells within a column contain values with varying amount of spaces, e.g. "A B" and "A       B", these values would be rolled up as unique values but the labels would look the same, "A B".  Now the labels are consistent with the actual values of the cells.

Column chart X-axis labels for blank cells are now rendered as "(no value)"

previously when cells in a column have no value or contain only spaces had space as labels, which made the chart confusing to read.
Note that the above releases notes are not exhaustive.  Release notes for other products can be found on this site as well.