Displaying Row Count on Top of the Data Table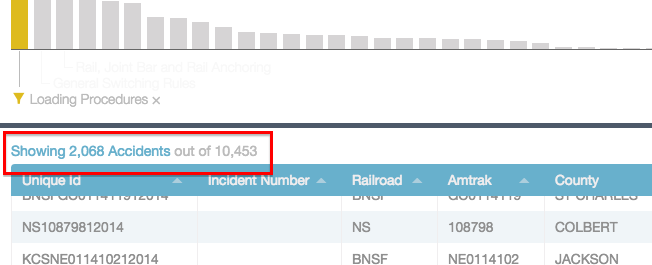 We moved the row count of the dataset to the top of the data table so that users can more easily see how large the dataset is.  We observed in usability studies that having the total row count helped users with task completion.
Selected Bug Fixes and Patches
Fix for region map not zooming correctly when it's loading in a browser tab that's not visible

previously when users load a Data Lens page in a tab that's not currently visible the region map is zoomed out instead of zooming to the correct zoom level based on the specified extent.

Fix for sorting "no value" columns first in column charts after aggregating by sum

previously when aggregating by sum, columns with no value, thus have a null sum, will appear before columns with non zero values.

Fix for the download button staying on the screen when scrolling down the page
Note that the above releases notes are not exhaustive.  Release notes for other products can be found on this site as well.