Dataset Count Update in Site Analytics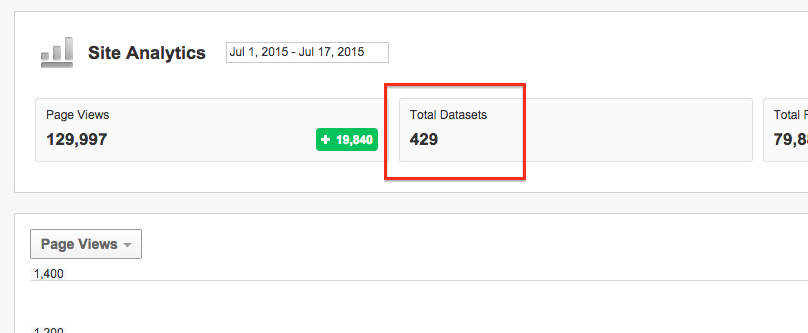 We have made improvements to our site analytics system to ensure the accuracy of the Total Datasets metric.
The Total Datasets metric excludes Data Lens pages, views such as charts and maps, external datasets and unpublished datasets.
Some customers may see their Total Datasets metric decrease slightly from the previous count.  The new metric is retroactive effective the beginning of June, 2015.
If you have any follow-up questions about this change, please contact Socrata Support.
Customize Row Label Unit in Data Lens

In Data Lens, when the dataset is being aggregated by the COUNT function, the default label for the card title is "Number of rows by".  Now that we have introduced the ability to define the row label unit for a dataset, the specified row label unit is automatically used for the Data Lens card title when the aggregation function is COUNT, for example:
In this example, each row in the dataset represents a single crime and the row label on the dataset has already been set to "Crime".  This card title is now much more descriptive and thus easier for users to understand the information presented in the visualization.  Any updates to the dataset row label automatically be reflected in the Data Lens page for that dataset.
Selected Bug Fixes and Patches
Fix for Region Map legend when values are near zero

previously, in Data Lens the legend for Region Maps did not display correctly when the smallest value in a region on the map is close to zero.
Note that the above releases notes are not exhaustive.  Release notes for other products can be found on this site as well.