Bing Maps Deprecation
We have removed support for Bing Map basemaps across all Socrata products including Open Data.  This decision was made based on the relatively light usage of Bing Map tiles across the Socrata platform.
If you have maps set to use Bing Map tiles, they'll automatically revert to use Google Map tiles.  You'll be able to choose an ESRI map tile set optionally as well.
You will still be able to use a custom basemap service for any map card within Data Lens.  
Search Suggestion Improvements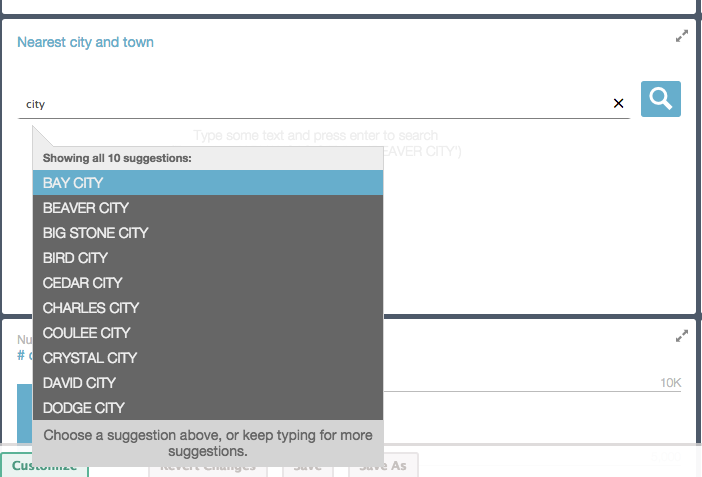 we've made improvements to search suggestions such that we can now match the search term users type with values in the cells of the column for when they appear in the middle of the string.  This broadens the list of search suggestions so that users can more easily find the value they're looking for.

Search suggestions now work for unicode characters which means that we have support for languages such as Arabic.
All new and existing Data Lens pages will be processed to have the enhancements over the next few weeks.
Selected Bug Fixes and Patches
We've made further improvements to make the data table in Data Lens reflect the format of the source dataset

The "no comma" property is preserved, e.g. when a zip code is in a column formatted as a number, it will appear as "98101" instead of "98,101".  
The percent format is preserved, e.g. "25%" instead of "0.25" when a column is used to indicate a percentage.
These changes provide consistency and predictability for data publishers over what users see in Data Lens.

Fix for the timeline card showing "No data available" when all dates are all identical in the column are identical

we now render a single value over a single date on the timeline
Note that the above releases notes are not exhaustive.  Release notes for other products can be found on this site as well.