Many Open Performance users update their goal pages every quarter and sometimes more frequently.  And it's not unusual for programs to have dozens or even hundreds of goals that need to be updated in a very short window of time.  A common piece of feedback to us is that it's tedious to navigate to each goal, enter edit mode, update a particular aspect of the goal (the start and end date, for instance), save, find the next goal, etc.
So we've spent the last couple months building out a goal inventory management system for Open Performance. Similar to the asset inventory for datasets, platform administrators can see all public and private goals on a domain, and they can even make common updates to one or more goals with the click of a button. The goal inventory is immediately available to administrators on all Open Performance domains.  
As a result of this work, the goal update process is much more efficient and streamlined, saving administrators time and reducing the potential for errors along the way.  
Read on to learn a bit more about the new goal inventory experience, and check out the accompanying Knowledge Base article for a deep-dive on how it works.
---
If you're a site administrator on an Open Performance domain, you can access the new goal inventory page via the Configuration panel and get an at-a-glance view of all goals.  You can sort goals to group by a particular owner, status or dashboard, or chronologically by last update.
With one click, you can get to the Quick Edit popup for any goal and see additional information about the prevailing measure and dataset.  You can also make updates to the goal tile and prevailing measure here, like changing the type of measure, setting a status override.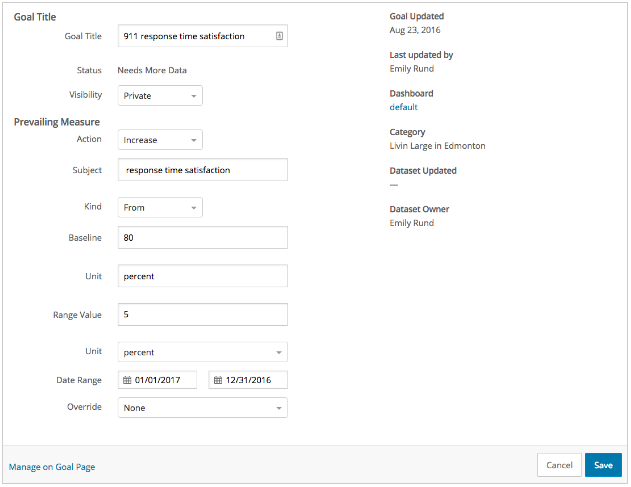 The most popular actions can be set in bulk for many goals at once. On the goal inventory, simply select multiple rows and enter the Bulk Edit modal.  Now you can, for instance, toggle every goal from private to public.  Or rev the timeline for every goal to the next year.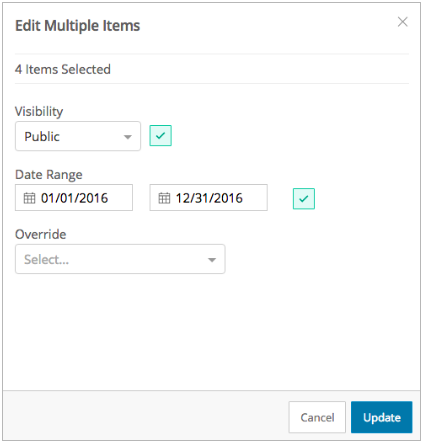 Finally, you can export the entire list, including all fields from the Quick Edit modal, to CSV for further analysis or to preserve a point-in-time snapshot of goal configurations.  Click on the Feedback button in the lower right corner of the screen to let us know what you think.
---
Sneak peek: what's coming next …
Over the next few months, we'll be turning our attention to the goal editing experience, implementing a more streamlined drag-and-drop interaction model, faster page loads and many new features.  Look for more detailed communication on this development work coming soon.
---
Check out our other Product News, and give us a shout at support@socrata.com with questions or ideas.