Quickly Edit Your Story's Publication Status
When editing a Perspectives story, it can be incredibly important to know if the changes you've made to the draft have been published, and if the published version is public or private. To make it easier to see the draft status and quickly make any changes, we've added the publication status directly into the editing menu bar.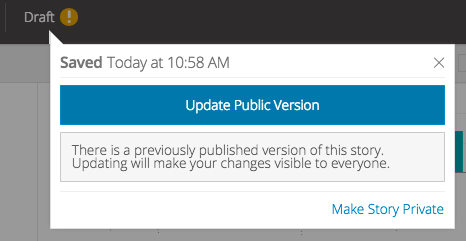 From the menu bar you can now publish saved changes, as well as toggle permissions between private and public.
Read this Knowledge Base article for more details on how to publish and share a Perspectives story.
Small Updates & Bug Fixes
Updates and fixes for the Perspectives editor

We made two small improvements to the image upload modal: the status messaging displayed when retrieving a Getty image is more clear, and pressing escape when cropping an image resets the cropping boundary rather than dismisses the image modal entirely.

When pasting in copied text, the letter combination "ti" no longer appears as a 􀆟 symbol. For those writing stories about tigers, artichokes, and ice skating - rejoice!

Hero images with a transparent background no longer accidentally show the checkered background from the image.
Updates and fixes for the new visualization library

If a map is selected from the visualization options, we automatically select the geo-coded column to visualize.

When you create a visualization using IE11, we eliminated the unnecessary vertical white space above the table.

You can now use percentage data with a timeline chart.
---
Check out our other Product News, and give us a shout at support@socrata.com with questions or ideas.