Datasets will now use the new publishing tool to make edits to both the data and the metadata of a dataset. To create a revision of a dataset, you will now select Edit using the action bar from either Primer or the data view.

For datasets that have been submitted for Approvals, the dataset will need to be withdrawn first.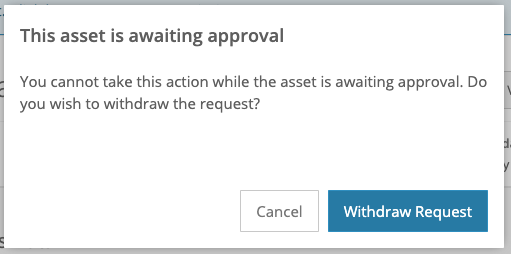 This will launch into the draft page, which is where all changes to a dataset will be made. This includes Dataset Metadata, Column Metadata, and the Data itself. The draft page will look very similar to the dataset creation draft page, and much of the content and features will be the same.
NOTE: Datasets that contain certain data types will continue to be edited through the legacy edit experience until we have migrated those data types to a new format in the new experience. This includes document, photo, percent, URL, flag, and star datatypes.
Manage Metadata
By selecting 'Edit Dataset Metadata' or 'Edit Column Metadata,' you will be brought to the Manage Metadata page. From here you can switch between dataset and column tabs and modify those fields accordingly.

A breakdown of metadata fields can be found here.
Editing Data Cell by Cell
You can also edit loaded data cell by cell while reviewing your loaded. You can find more information on this process here.
Add Data
Just like in the new import experience, you can add data from a source of your choice to update or replace data. With either method, you will be able to use an upload a source file or import from a source URL.

Schema Mismatches
After adding data to the draft source file formats, such as different column header names, may trigger the publishing tool to highlight that the incoming data schema is not what was previously used in a data update. You can learn more about Schema Mapping here.
Review Data
Selecting 'Review Data' will either bring you to a page where you can preview the published data

or a preview of the source data that will be used to update or replace the dataset. Additional details about the Data Preview page can be found here.
From here you will be able to modify any configurations or add transforms to the source file used. These changes will be saved for the next time you update the dataset with a new source file.
Publishing
Just like a working copy, a draft can be left in its current state and accessed at a later time. In addition to data changes, edits to metadata can be made, reviewed at a later time, and then published. To assist with auditing, drafts will also have a log of recent actions made.
To publish the draft, select Update from the action bar. After selecting an audience and clicking 'Done' the draft will begin the publishing cycle.