With the Socrata Data Management Experience, comes the ability to schedule data updates for datasets that were imported from a URL. To get started, create a new dataset from the new data publisher and publish the dataset. Please note, that any changes made on this draft will also be applied to the scheduled update.
Watch a short video on this process here: How to Automate Data from a URL
Creating a Scheduled Update
Once the dataset has been published, access the Primer page and select the Schedule Updates option.

Note: This option only appears for datasets that are created from a URL data source.
This will open a modal where you can configure the frequency of update in days, the time of day the update will occur and the import URL of the source data.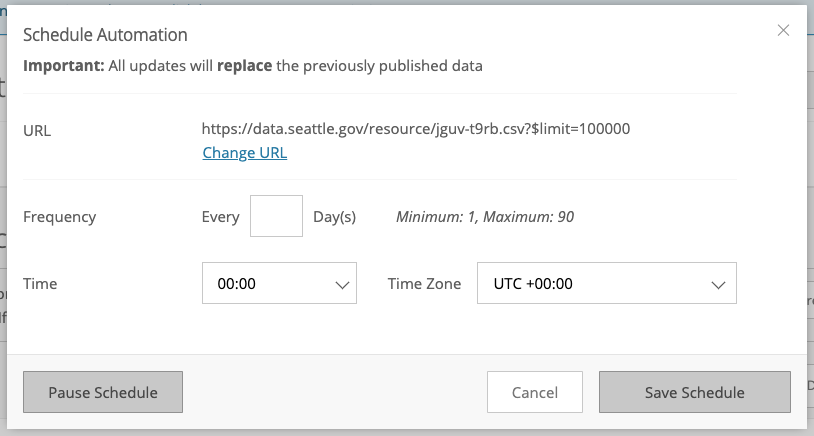 Editing a Scheduled Update
After scheduling has been setup, you can use the same steps as the above to access and edit it. In addition to the time of day, frequency, and source URL, you will also be able to pause/resume or delete an existing schedule.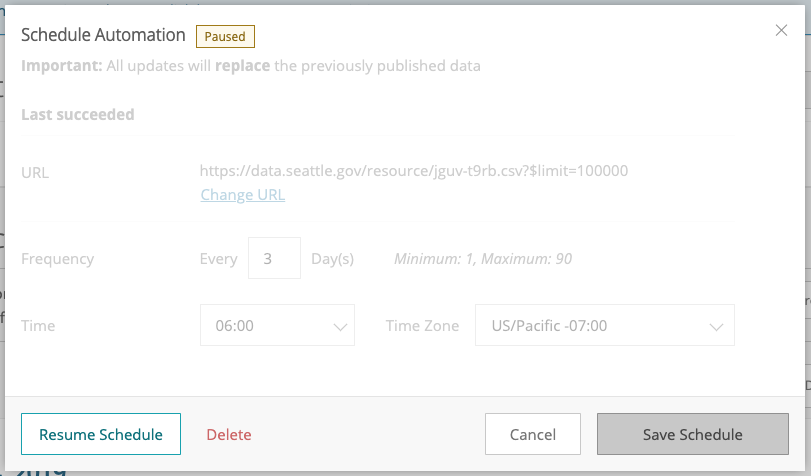 Updating the Source URL
To update the URL used, select change url from the Schedule Automation for URL Datasets modal. This will open a draft of the dataset where a new source URL can be provided. From there, you can apply additional changes to the dataset such as display formatting, transforms, etc. Once the draft is published, the Source URL will be updated.