When using the Socrata Data Management Experience, you can now sort your dataset and modify column widths while reviewing or adding data to your dataset. You will first need to create a revision of your dataset using the action bar.
Once in the new tool, you will first want to select either Add Data or Review Data, based on the action you will take.

This will load the columns in your dataset. From here you can add sorts to your dataset or adjust column widths.
Sorting
Once your data has loaded you can add a column based sort select the kabob in the right-hand corner of the column. Selecting the kabob menu will launch a modal with a number of options. To sort the dataset based on column values, select one of the sorting options.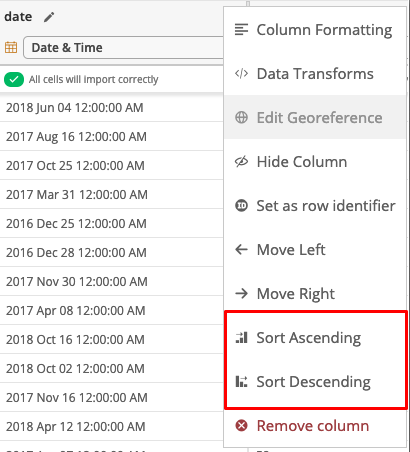 Once you have applied your sort, save your changes.
Note*: The sort will not show in the data preview. However, the dataset sort will be applied once the dataset is published.
Adjust Column Widths
While reviewing data, you can also adjust the width of the column which will be applied to the published data table.
To change column widths, select the border between two columns headers and drag the column to adjust its width. The columns can be made more narrow or wide to fit the data in the cell.
Note: Column widths will not be reflected on the Primer page table preview, but they will be reflected in the dataset grid view.