You can now add and configure table visualizations in your Stories!
Create a table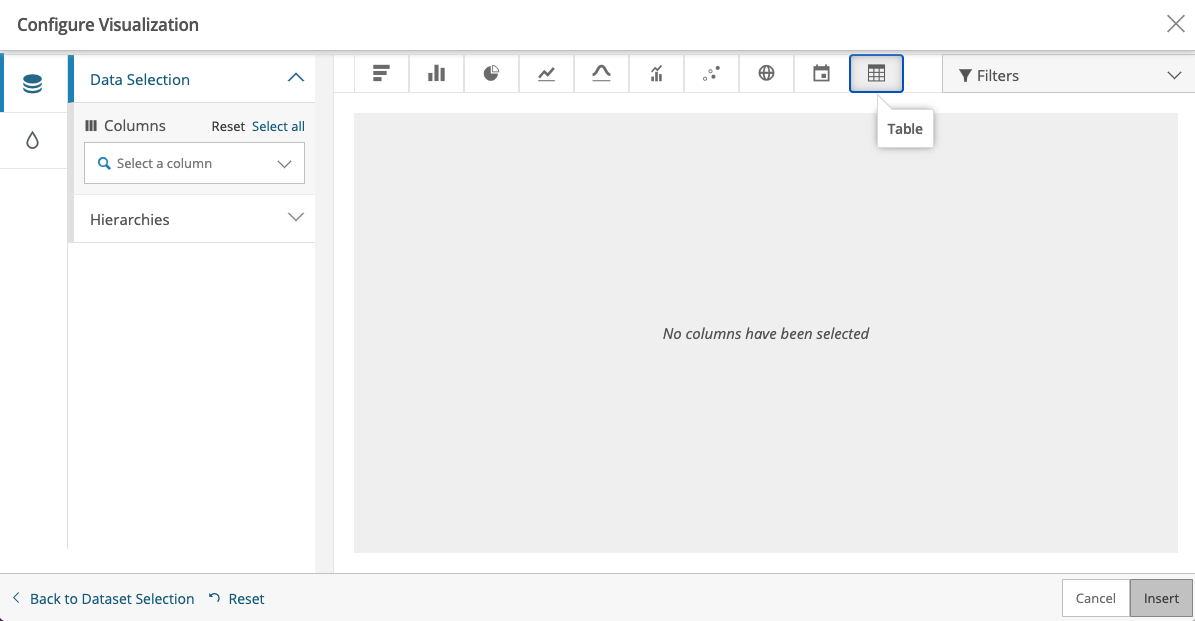 Note: As with any visualization, you have the option to add a title and description to your table as well as show or hide the "View Source data" link.
Existing Table Embeds
For those who have existing table embeds in their Stories, when you click "Edit", you will be taken to an empty, in-situ visualization canvas where you can select Table and begin building the table with the new experience.
Any filters that were previously applied will be carried over and it will be automatically connected to the same underlying view that built the table embed.
We are working on improving this transition experience, please keep an eye on release notes for updates!
Add columns
To begin building your table, you will need to add columns. There are several ways to add columns to create your table:
Click Select all to add all available columns from your selected data source.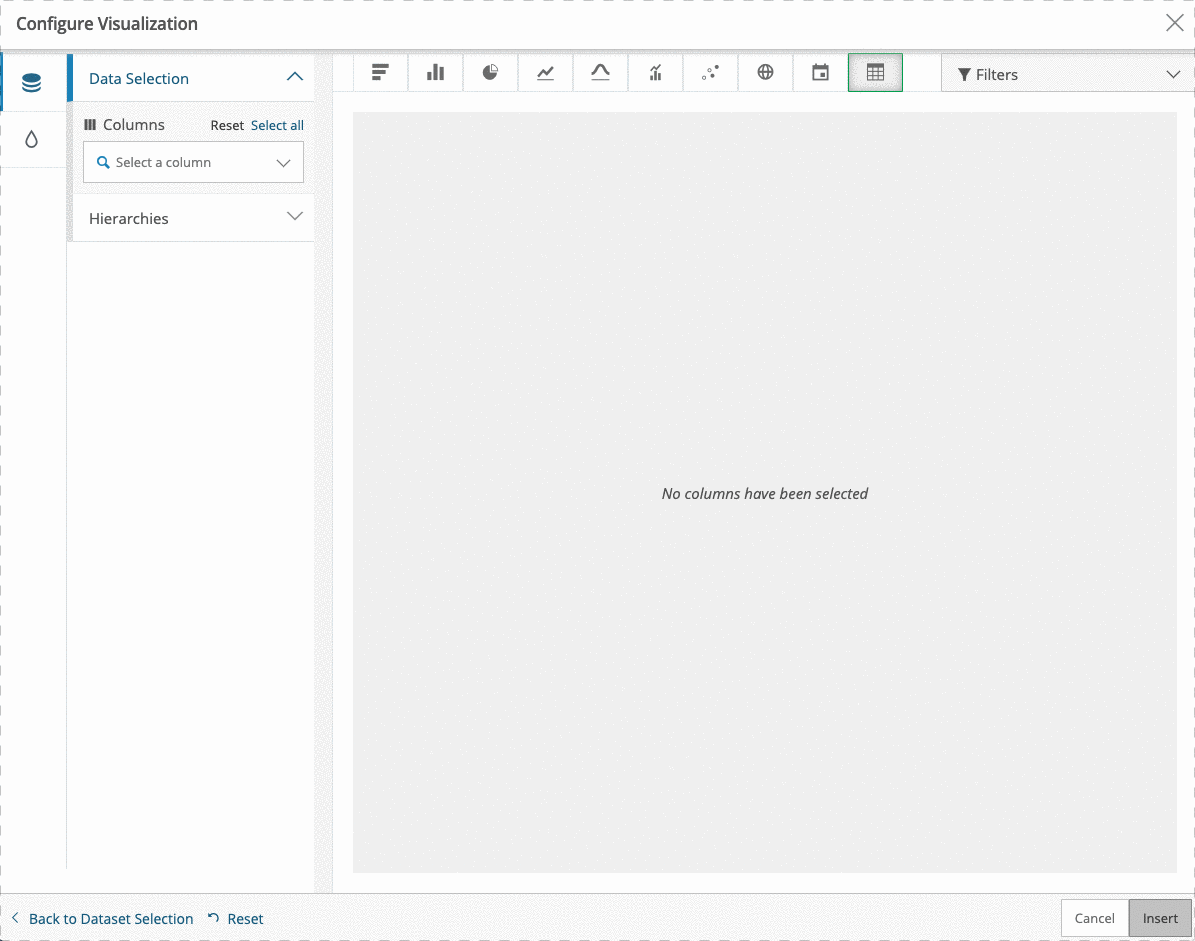 Click Reset to remove all selected columns from your table.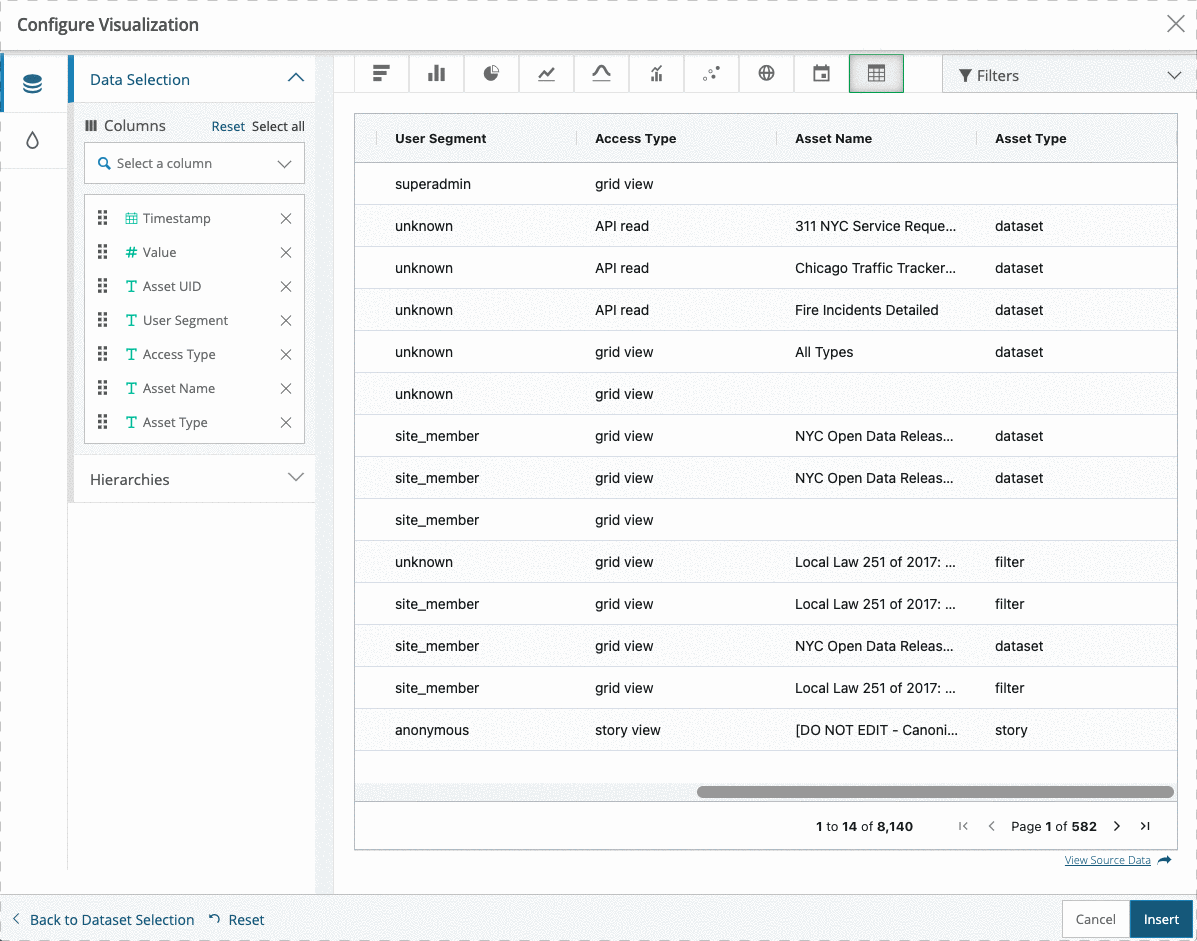 Click the dropdown and scroll to select a column.
Click the dropdown and manually type to select a column.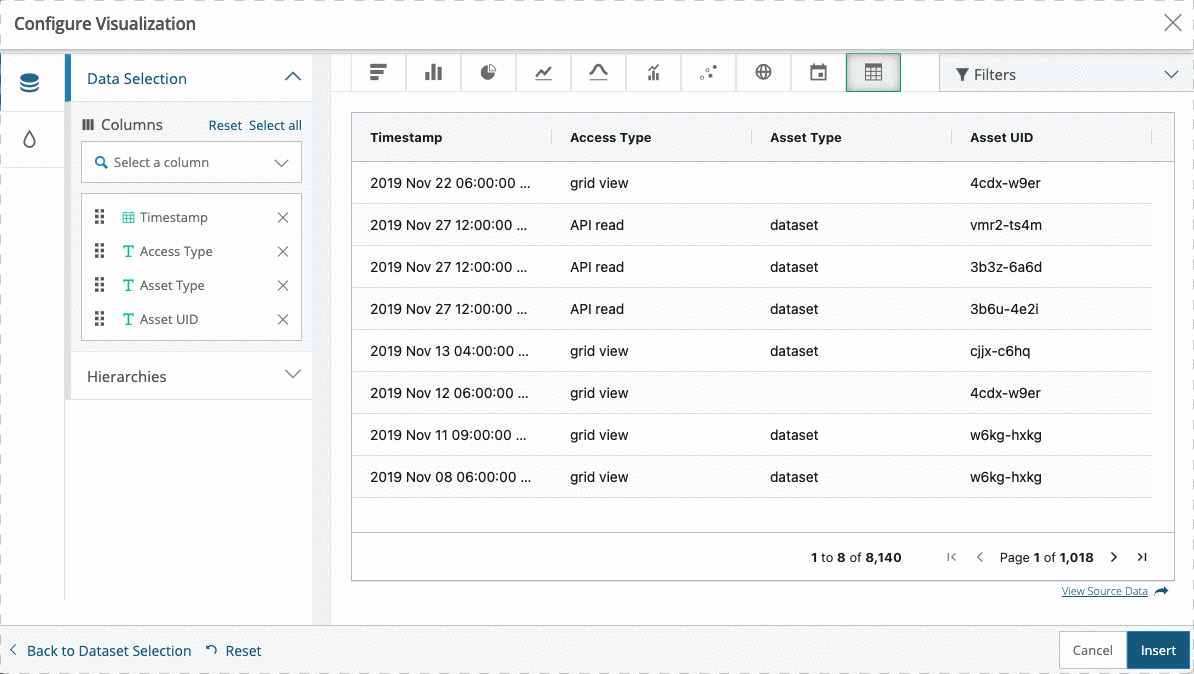 Rearrange columns
You can rearrange the order of your table's columns by either clicking and dragging the column name within the Columns side panel or the column within the Table Preview window.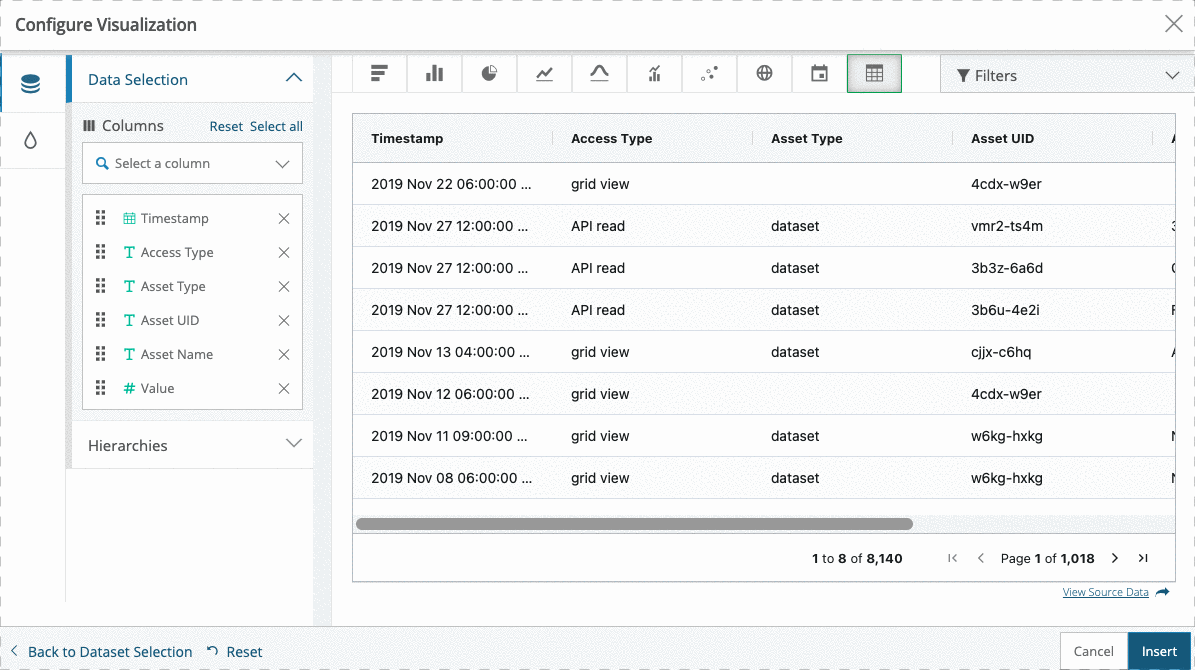 Change column widths
Table columns will automatically have a default width. The default width applies to new tables and tables where you haven't adjusted any column widths at all. The columns will fill the space, with a minimum and maximum width, until they reach a minimum width and then scroll.

To adjust the width of your table's column, you can easily click and drag the column in the Table Preview.
Tip: You can also adjust the column widths once you've added the table into your Story!

Note: We limit the number of rows to 500 per page when a table is inserted into a Story. You can view additional rows via pagination!
Add hierarchies
The table visualization allows you to configure a hierarchy that is comprised of groupings and aggregations for each set.
Setting up a hierarchy
Note: You can add up to five different hierarchies to a table, each hierarchy can have up to five groupings.
1. Click "Set up first hierarchy" to begin!
This will trigger a new tab on your table for your hierarchy. The default state is a flat view of your data named "Ungrouped".
Tip: Leave an unconfigured tab if you want those viewing the table to see the raw view.
2. Select the columns you want to group by selecting the checkbox underneath Groupings!
This will trigger the table to start rolling up columns as you select each grouping.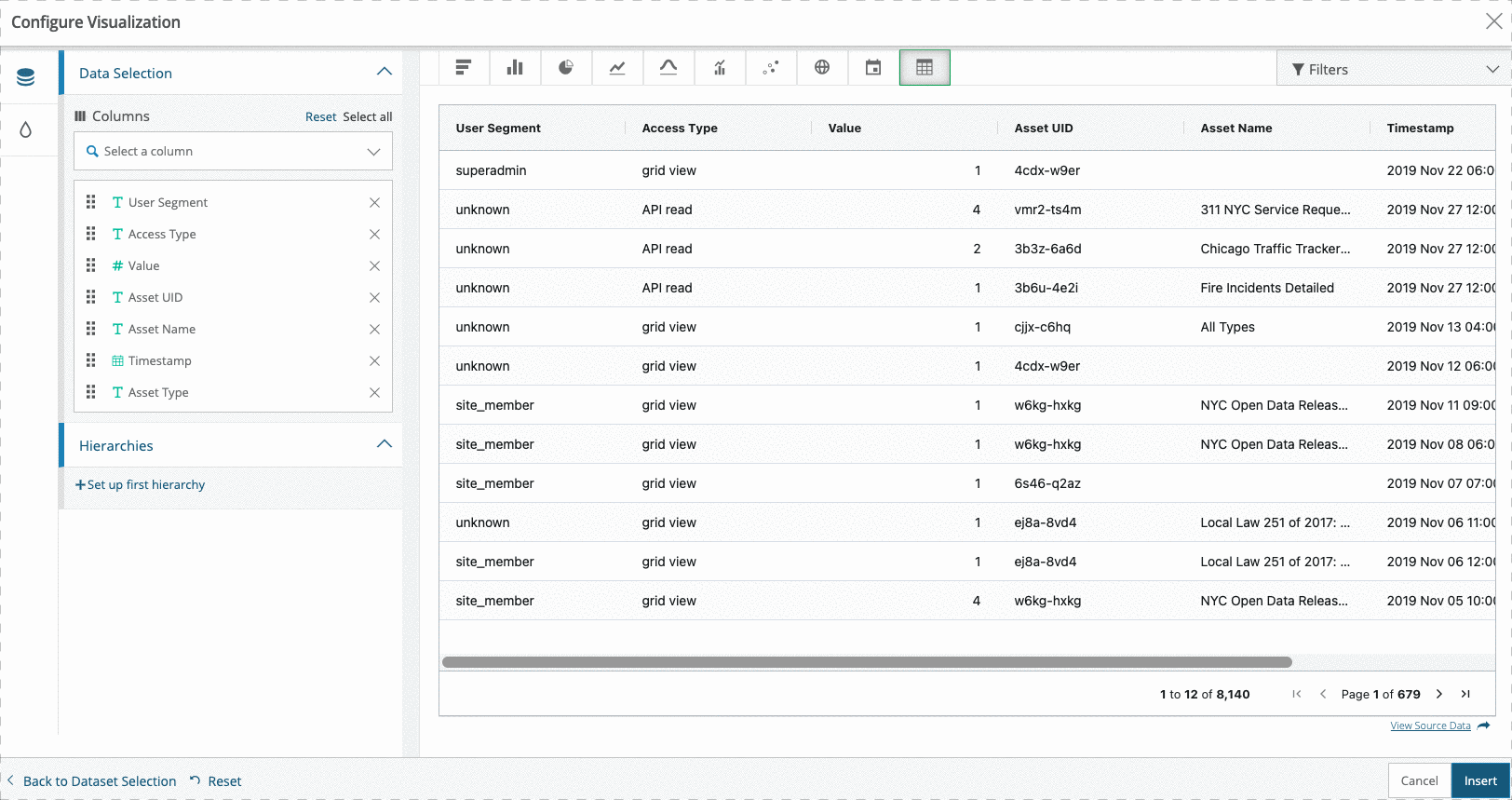 3. Select the aggregations you want!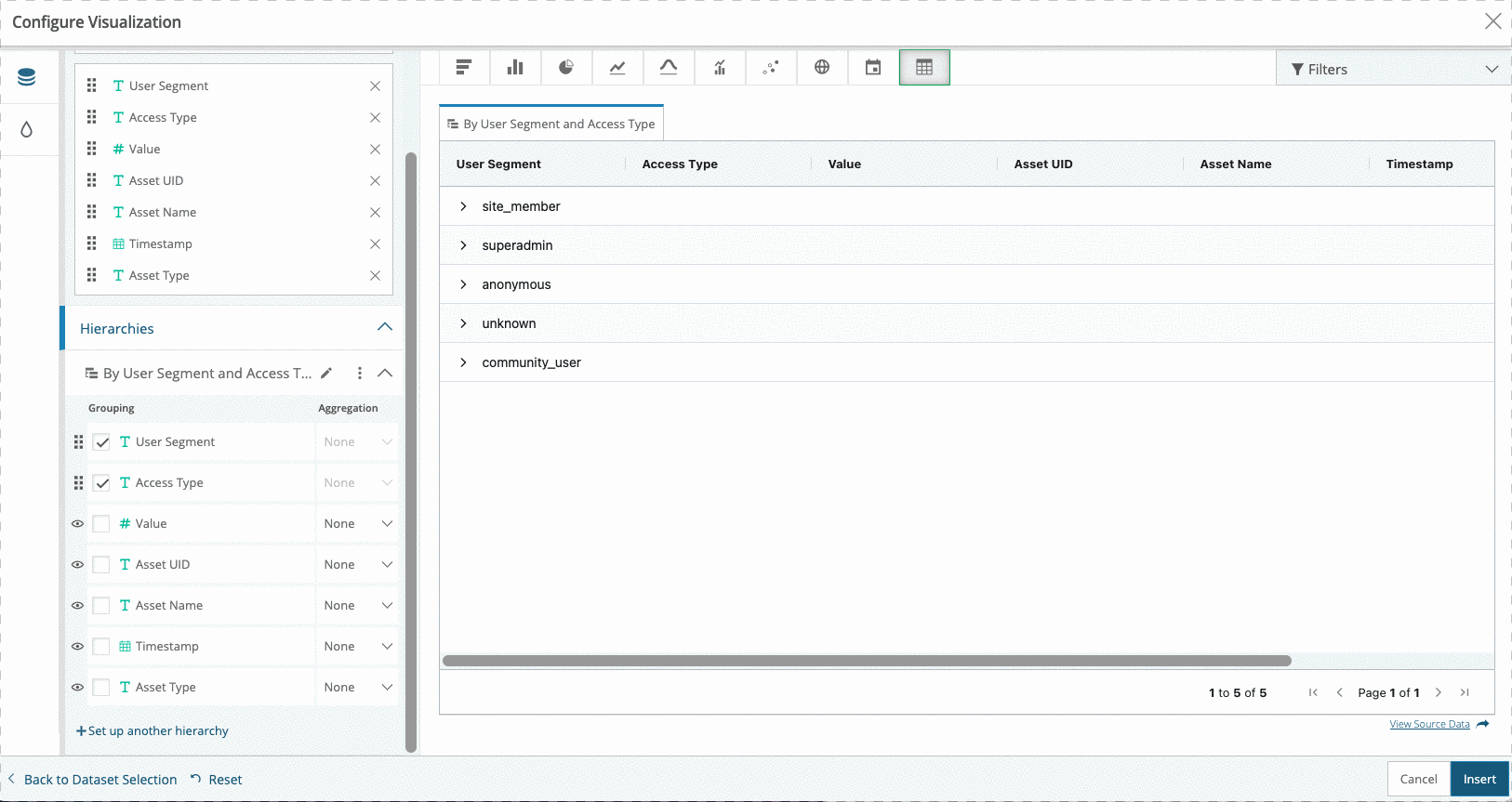 Based on your column data type, you can choose from the following: None, Count, Sum, Max, Min, and Average.
You must select at least one column to group before you can select an aggregation.
Note: When a number column is formatted as a percent and the column was created in a view using division, the percent option is available within the aggregations dropdown. This option will sum the numerator and denominator in the calculation to get the correct aggregation for percent.
If you want to add additional hierarchies, click "Set up another hierarchy" at the bottom of the Hierarchy side panel.
Add a grand total to your table
When your table has hierarchies and at least one aggregation set, you can add a grand total row to it.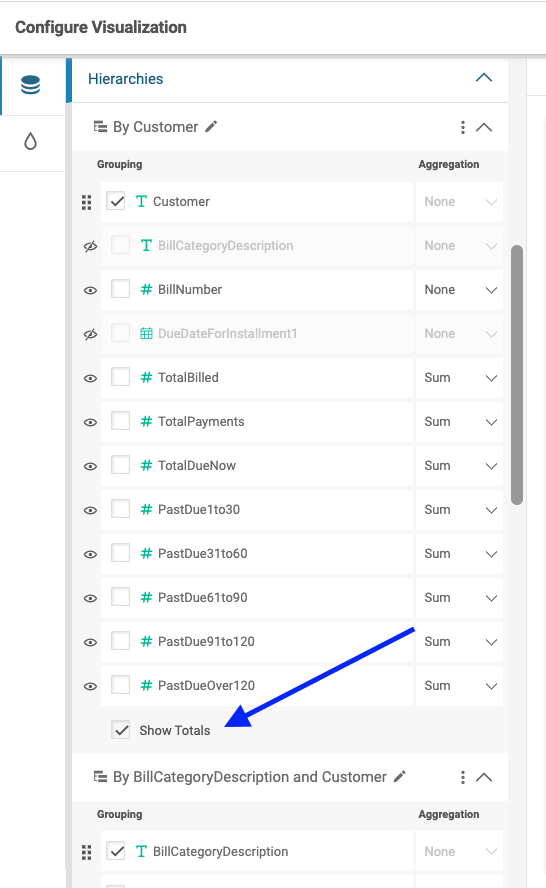 Note: Grand total rows are currently unavailable for tables that do not have hierarchies configured.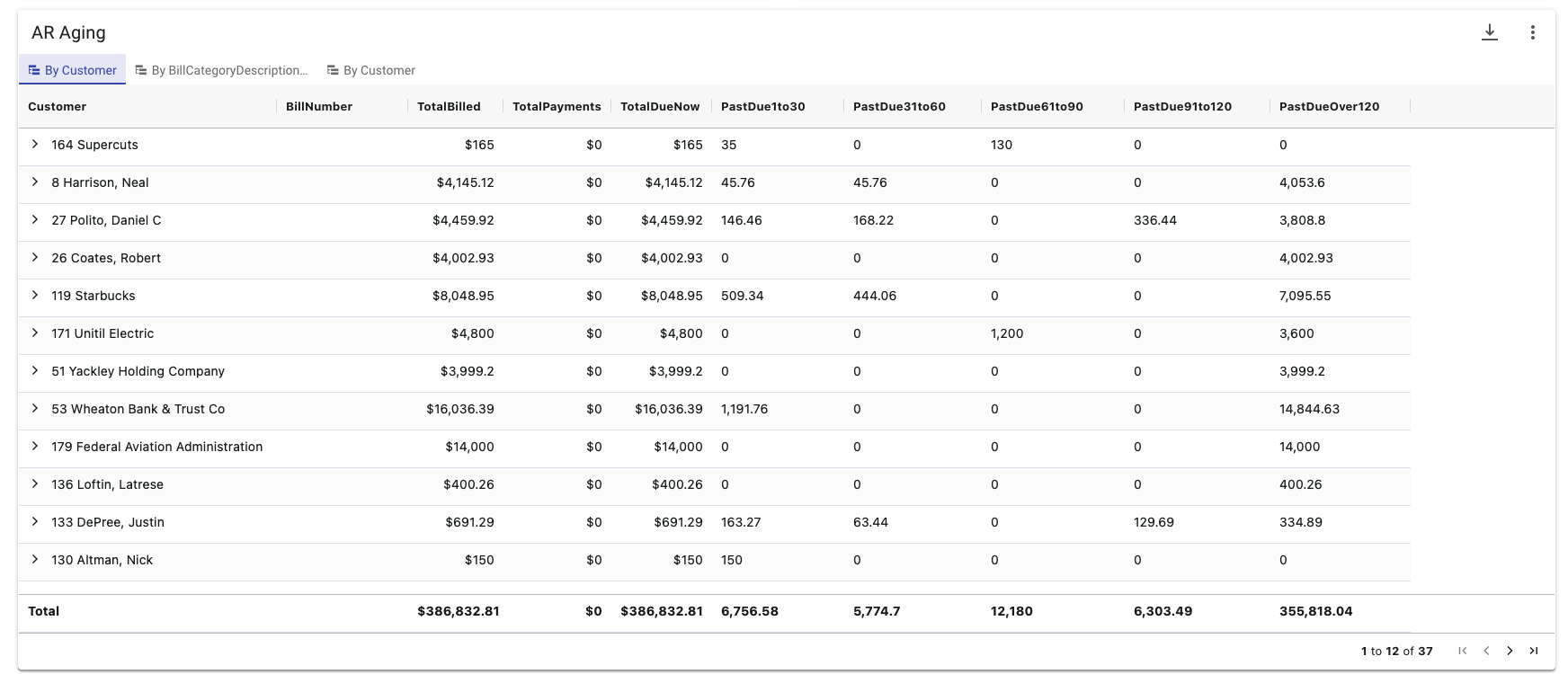 Manage hierarchies
Each hierarchy is easily manageable through the kebob menu.
Duplicate, Reset, or Remove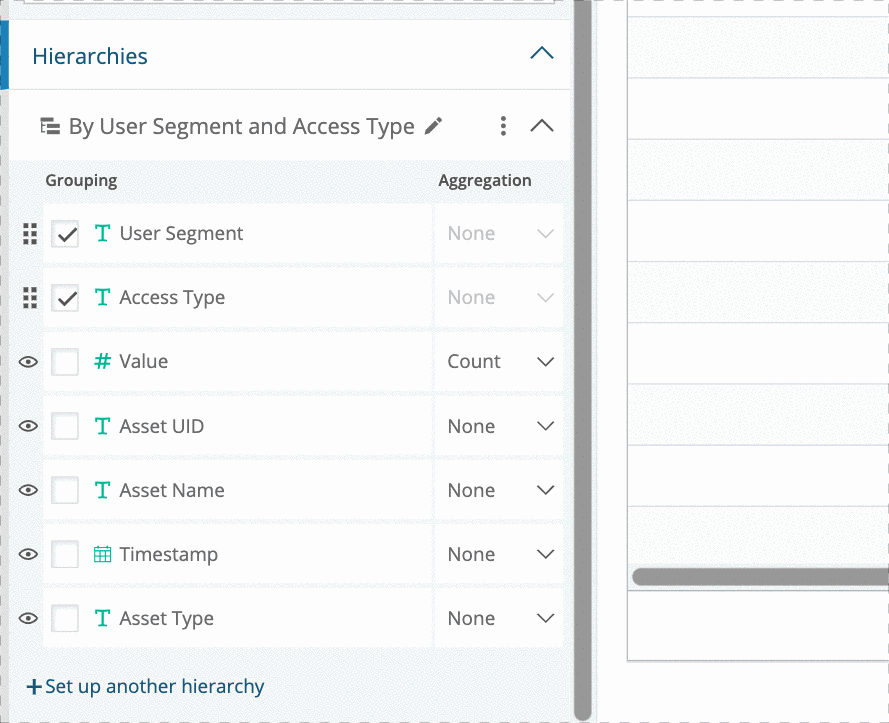 To quickly copy and tweak hierarchies on your table, use the Duplicate option.
Click Reset within the kebob to start your hierarchy configuration over.
You can delete a hierarchy by clicking Remove within the kebob menu.
Rename the hierarchy
You can rename a hierarchy by clicking on the pencil icon and typing.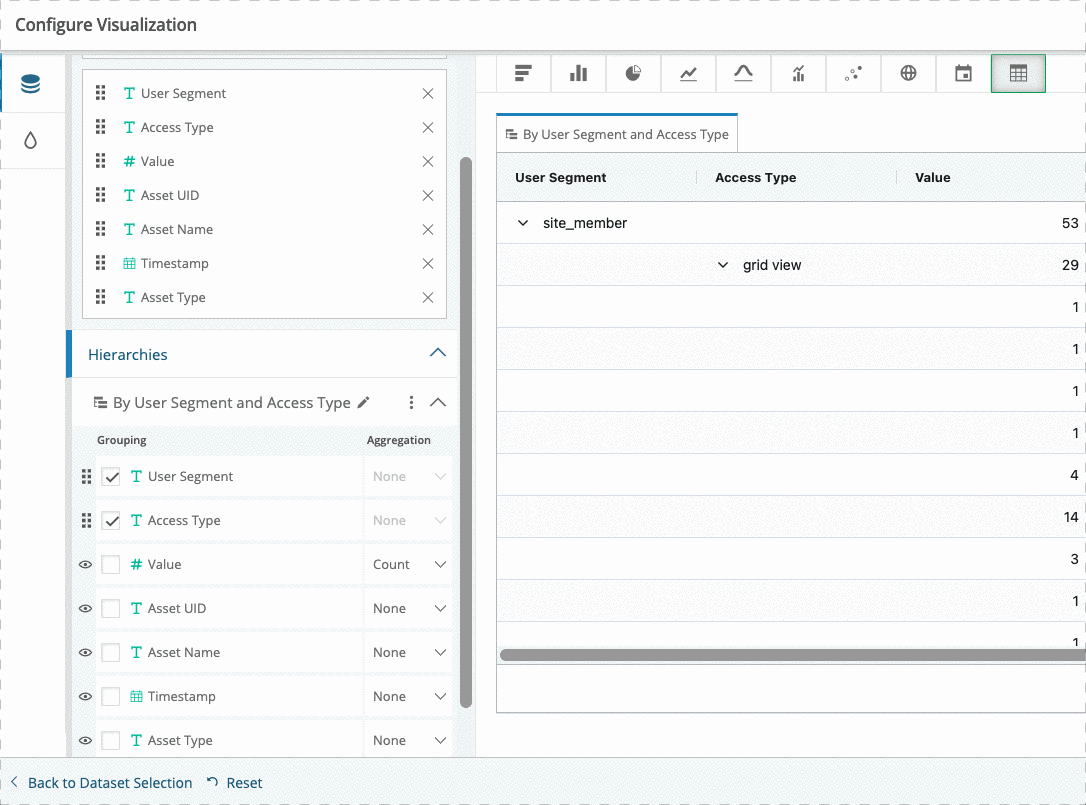 Note: There is a 70 character limit for each hierarchy tab name.
Rearrange the hierarchy columns
You can rearrange the order of your hierarchies grouped columns by either clicking and dragging the column name within the Hierarchies side panel or the column within the Table Preview window.
Show or hide columns within a hierarchy
Within each hierarchy, you have the ability to show or hide columns.
To show a column, click the eye icon next to the column within the Hierarchy side panel.
To hide a column click the eye icon until you see it become crossed out. When a column is hidden, it will be excluded from view within a given hierarchy.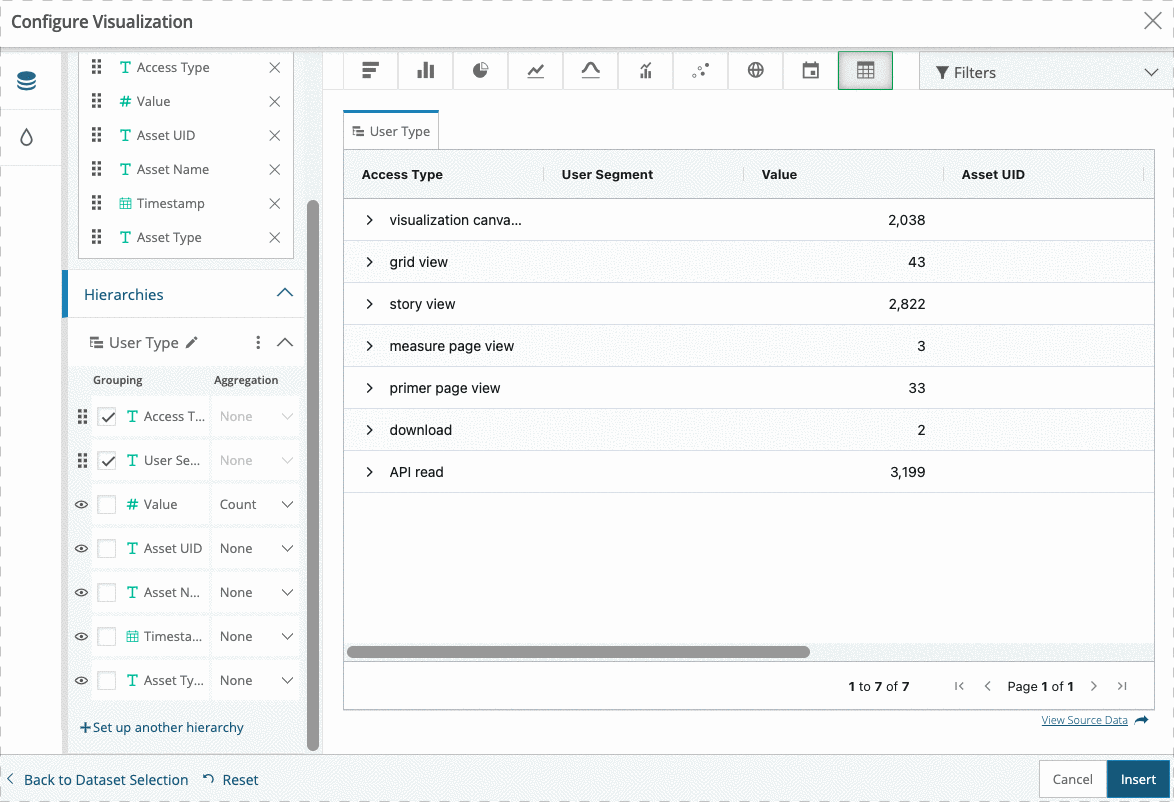 Filtering the table
As with any other visualization, you can add filters within the Quick Filter Bar (QFB) to filter the table.
If you add hierarchies to your table and apply a filter, the filters will apply to all hierarchies configured.
If you add a table to a Story that contains a Global Filter Bar (GFB), it will filter the table if it is powered by the same data source.
Sorting the table
Single column sort
You can sort any type of column, except for geolocation, by ascending or descending order.
Multiple column sort
You can set a sort order precedence by sorting on more than one column on your table.
Once you set your first column sort, you can easily set additional by hitting "Ctrl" on your key (or "Cmd" on Macs) and click the column headers.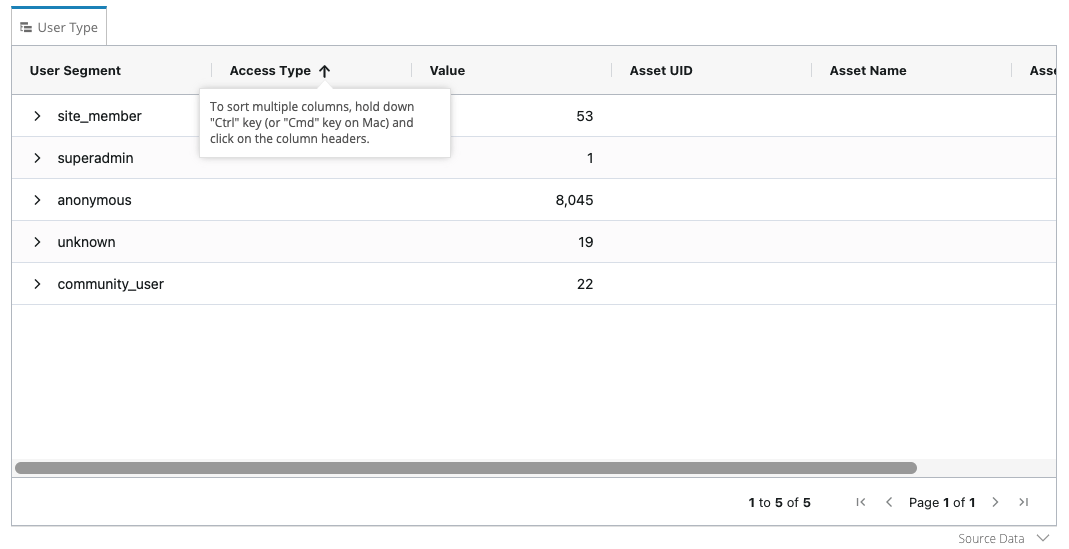 The sort order is numbered on each sorted column header.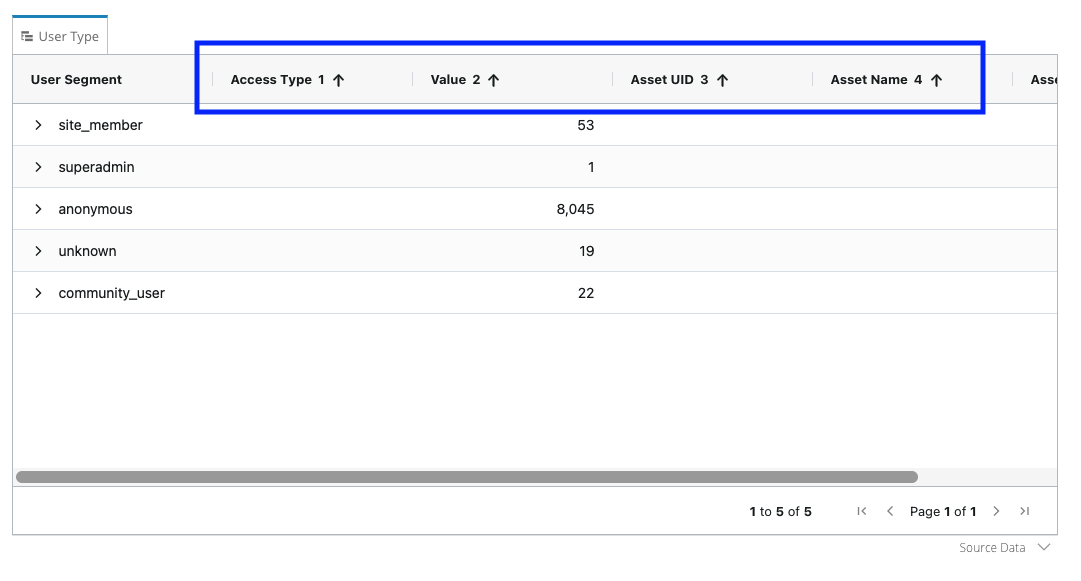 Note: You can configure the default sort order within the Table Preview when creating your table. Viewers of your Story will be able to sort (single and multiple) columns on the table as they wish to, however, the default sort will remain if they refresh the page.