Design System Adoption Video
What's New
The Data & Insights division is adopting the Tyler Technologies design system. The main benefit to adopting the Tyler Technologies design system is a simplified, more intuitive experience for users. Comprehensive research has gone into the development of this design system to ensure the site aligns to research-driven UX patterns, making the site more accessible and providing a familiar feel for users. This change will also make Data & Insights products consistent with other Tyler products, creating a more seamless experience for customers with multiple Tyler tools.
The design system adoption is a brand new way to navigate and interact with a domain. These updates include a new and improved header and asset action bar, a new drop-down menu, an improved asset creation experience, and a more fluid mobile experience.
New Header and Navigation
The new header and navigation bar provides a cleaner looking data platform while also creating a simplified navigation experience for users.

Some benefits of the new header and asset action bar include:
Permanent search bar

"Create" modal shortcut

Consolidated menus

New icon for language localization
New Header Drop-down Menu
One of the larger changes that comes with the Tyler Technologies design system is the new header drop-down menu. With this change, platform interactions have been consolidated into a single menu. The menu includes permission based shortcuts to frequently used pages.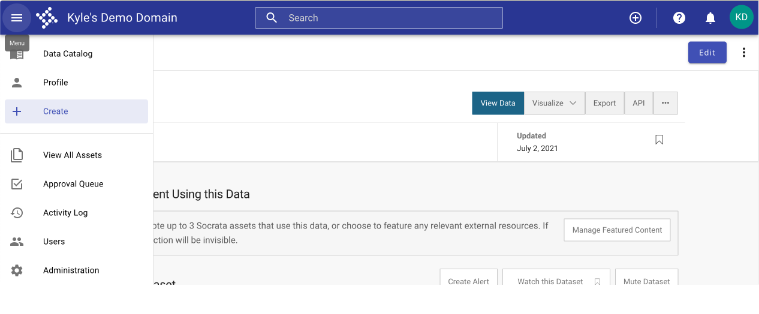 New "Create" Modal
The new "Create" modal is accessible from either the header drop-down menu or the "Create" shortcut in the header bar. This modal is a new look for the same functionality that was previously in the "Create" drop-down menu in the header.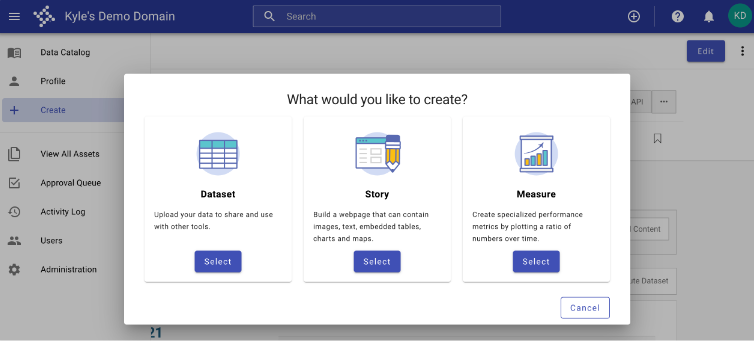 Internal Links
Internal links are still available on the platform and can now be found in the drop-down menu of the navigation bar.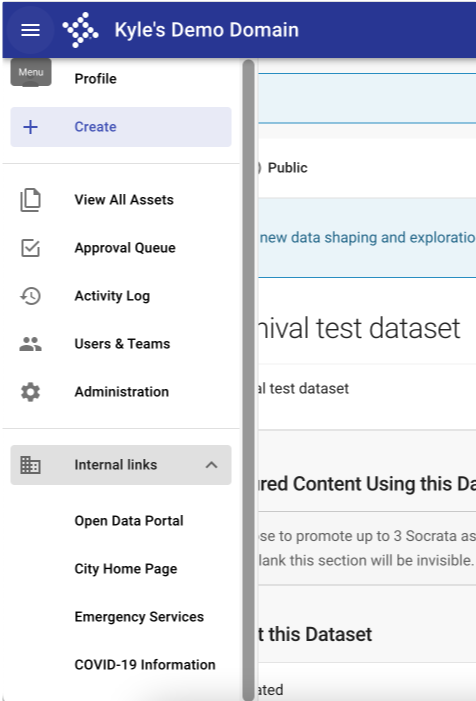 Mobile Responsive
Another benefit of the Tyler Technologies Design System is that it is mobile responsive. Users will have a much more fluid experience when accessing Data & Insights domains from their mobile devices.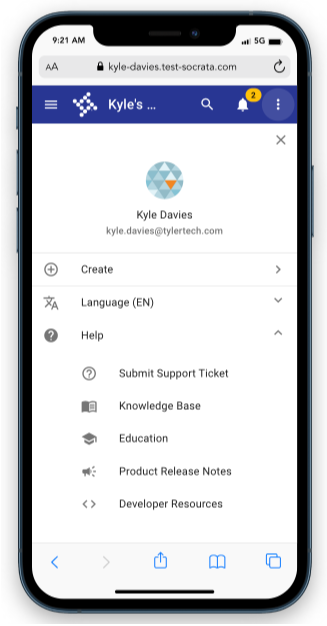 Questions
If you have any questions about the content of this article, please reach out to our Support Team at datainsights-support@tylertech.com.