You can easily create an embeddable iFrame of Citizen Connect using the Share button at the top header bar.
To create an embed of your data you will first want to filter your map to contain all of the information you would like to be included. The embedded map will contain the same filters that you have just configured. Once you have the map configured as desired you can go ahead and click Share to generate the HTML code for the embed.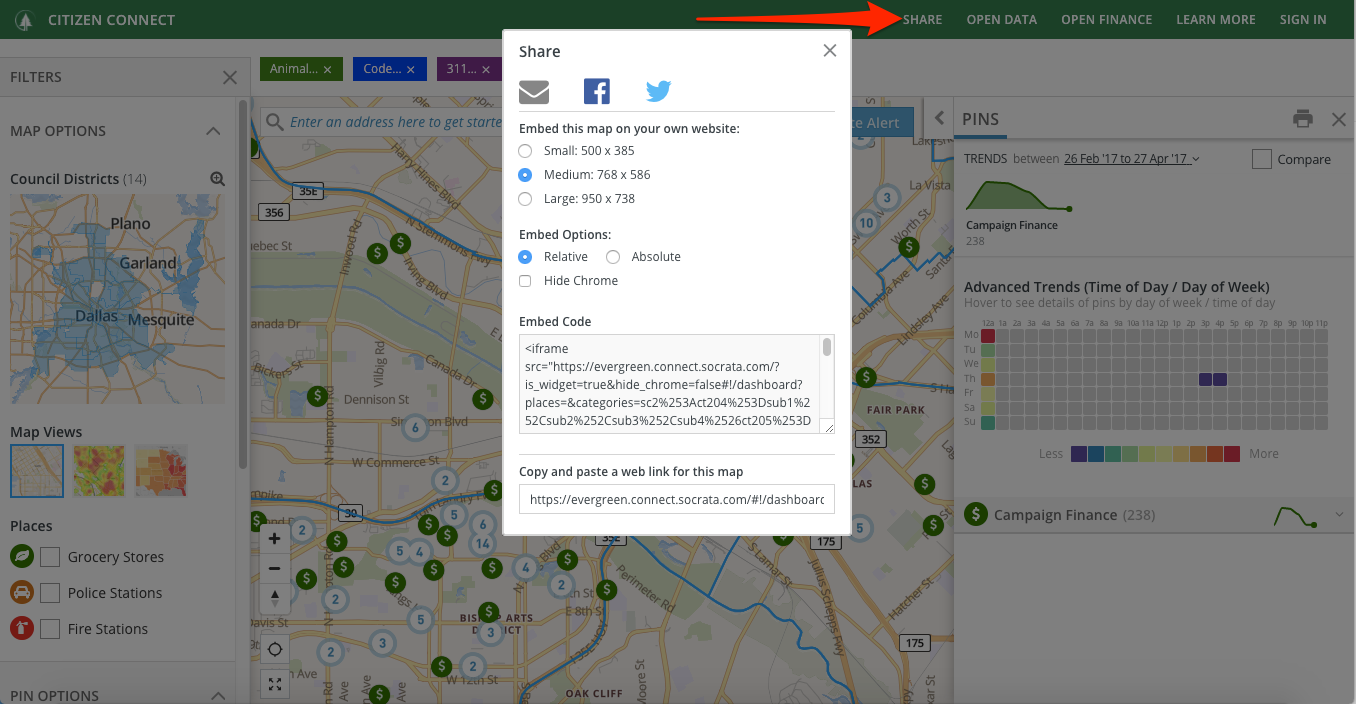 This will pop up a new window with a few options. The top line will give you the option to share the site via email, Facebook, or Twitter. Below this section is where you can further configure your embed.  
First, select the size, there are three default options to choose from.

Choosing

Relative

will give you a date range that is based on the current day. So for example, if your filter displays the previous two weeks, the embed will also display the previous two weeks from the current date.

Choose

Absolute

if you would like the date range for a specific time period. This could be used if you want to show data for a specific month only.

Choosing

Hide Chrome

will remove the header bar from the embedded map.
You can also just copy the web link for the map to be used as desired.
Maintaining Embed Stability
Both the embed and the web link is constructed from the Citizen Connect URL. This URL is build based on the contents of the application. There are two changes to the site administration that can cause issues to your embed:
Changing the categories that are pulled into Citizen Conenct
Replacing the shapefiles used to set the shapes displayed in Citizen Connect.
If either of these actions is required, you will need to rebuild your embed code with the steps above and update any embeds or shared URLs with the newly generated code.