Despite the fact that more and more content is becoming electronic by default, there is still a common need to print to paper for situations such as approvals or editing. To help support this frequent request from users, owners of a story and platform administrators can now print stories directly from the settings menu.
To print
Simply open a story in edit mode, and click the menu button in the left corner of the toolbar.  You'll see the Print item near the bottom. Clicking it will trigger a new tab to open with a print-optimized view where you will be asked to wait for things such as visualizations to finish loading. Once the page has finished loading, simply initiate printing however you normally would, by selecting File > Print, Ctrl +P, etc.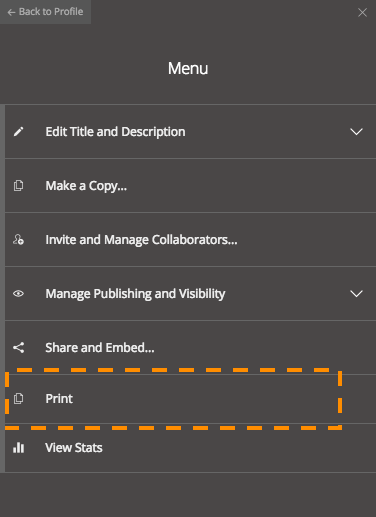 Having trouble printing? 
Occasionally, the print action will get triggered before all of the elements on the page have loaded.  This is especially the case for stories with many charts and/or maps based on several different datasets.  If this happens, simply wait until the print-ready tab has loaded all of its components, and then manually use the browser's File+Print functionality to trigger the print. 
If you're having trouble getting the hero image (that wide image that stretches across the entire page), make sure your browser's print function is set to print background graphics.  Check if this setting is enabled by clicking File+Print in your browser.  The setting varies by browser, but in Chrome, it's under More Options: