Assigning user roles for Socrata Perspectives is key to creating, managing and publishing stories. Each Socrata user has a role on his or her Open Data domain. That role defines the types of actions that a user can perform for each asset. For information on Socrata Open Data permissions, check out all of the Publica Open Data user roles
+Perspectives Domain Roles
When Perspectives is deployed on a domain, two new roles become available for administrators to assign to users, Publisher+Perspectives and Editor+Perspectives.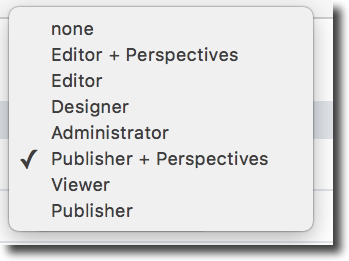 The "Publisher" piece of that first role means that the user can perform all actions available to dataset publishers on the platform. Likewise, the "Editor" piece of the latter implies all permissions available to dataset editors. The "+Perspectives" piece means that these roles are able to create new stories, and then edit, share, manage and publish those stories.

If you are a site Administrator and expect to have +Perspectives roles to assign to users but are experiencing an issue, you should contact your Account Manager or support@socrata.com for assistance.

Administrators

Site Administrators are able to create and edit stories. This is the only role that can manage all stories on a domain and preview or edit any story on a domain.
+Perspectives Roles
Publisher+Perspectives and Editor+Perspectives can create a story. They can edit and manage any story they own or co-own through shared story access. They can preview any story that has been shared with them.
Other Roles
Users without a "+Perspectives" role cannot create stories; however, they can preview and/or edit the content of a story that has been explicitly shared with them.